Go to our US store
Free shipping anywhere in US
Buy in US dollars
Order ships from our warehouses in US - no delays at customs
Visit US Store
Santa Cruz Shredder 3 Piece Grinder - Choose Medium or Large
Free Shipping
Easy Returns
World Class Customer Service
Shop with the most trusted vaporizer store
The 3 pc. Santa Cruz Shredder is a unique design. Don't want to separate the pollen from your blend? The 3 pc. is perfect for you. The 3 pc. features a very deep storage with rounded corners so your material never gets left behind.
"Fluffed to Perfection"
A fluffy, not compacted grind is great for convection vaporizers because it exposes a lot of surface area to the heat while permitting more air flow. The Santa Cruz Shredder is designed to shred your material to the perfect fluffy consistency. 
Easy to Shred
The Santa Cruz Shredder is designed with ease of use in mind. It features a knurled grip, it grinds smoother than other grinders and will even shred through stems with no issues. The Santa Cruz Shredder also features rare earth magnets which helps keep the lid secured to the grinder so it won't open unless you want it to. Featuring teeth that grind in both directions, you'll spend less time grinding to get "fluffed to perfection" material.
Designed to Last
The Santa Cruz Shredder is made in the USA, constructed out of aerospace grade aluminum and manufactured using CNC technology. The grinders are anodized which creates a harder surface which is resistant to scratches, thread damage and tooth damage.
The Santa Cruz Shredder features a unique threading pattern, which helps reduce cross threading. This ensures that your grinder will last longer, never get stuck closed and you'll never get shreds of aluminum in your grind.
Medical Grade Grinder
To ensure that any and all contaminants from the manufacturing process are removed, the Santa Cruz Shredder is cleaned using the same process the medical industry uses to clean medical instruments prior to surgeries, resulting in a medical grade grinder.
Size:
Large 3 pc = 2.75 inches (70mm) in diameter
Medium 3 pc = 2.1 inches (53mm) in diameter
Small 3 pc = 1.6 inches (40mm) in diameter
Customer Reviews
Write a Review
Ask a Question
Filter Reviews:
Santa Cruz
money
stuff
brand
grinder
prob
3pce
blue one
fuchsia color
POV staff
10/22/2020
Nishant R.
Canada
Appears I got a used product
So far it has been less than ideal. Ordered a bunch from this site and never issues but with this grinder I got it in damaged packaging and chips on the inside of the grinder itself. As a product that is supposed to be medical grade this was a severe disappointment. Possibly used.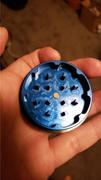 10/22/2020
Planet of the Vapes
We have to clear something up, here, Nishant. We have been in business for over 10 years and we are an authorized dealer for every product that we sell and have never sold used product disguised as new. That's just not something that we do here at POTV. With that said, we are currently in the process of exchanging this for you. The very last thing that we want is for you to have a product that you are not happy with. Please stay safe out there. With best regards, Larry
10/18/2020
Steph
Canada
Pricy but Boss
Stop saying its too expensive, get it, forget it, it'll last forever Pack it full and it'll grind through no prob.
10/18/2020
Stephane R.
Canada
Awesome 3 piece
Just what I needed. Already have a 4pc other top brand but they don't make 3pc. The magnet on this Santa Cruz is stronger too. I have the blue one looks great well built all that good stuff. On the pricy side for sure but I knew what I wanted coming here.
10/11/2020
Marciano S.
Canada
Santa Cruz grinder
This is my first grinder and I'm happy to have spent the money to get a quality one like Santa Cruz. POV process was perfect and the grinder arrived exactly as expected in a beautiful purple. POV staff do note that on your website it pulls up the fuchsia color when you select the purple so you may want to fix that but the correct one was sent. I definitely recommend the Santa Cruz grinder and POV :-)
10/12/2020
Planet of the Vapes
Thanks for the heads up on that Marciano. Will pass that on to our marketing department. Please stay safe out there. With best regards, Larry
10/04/2020
Brandon R.
United States
Love it
It's been great. Great product got it fast and couldn't be happier.