With the ArGo, Arizer delivers an extremely portable, pocketable vape, something we've been looking for from Arizer for quite some time. It brings with it tasty vapor, a trademark of the Arizer brand, and swappable batteries, a standout feature. Pair that will full on-board controls and wide open airflow, and the ArGo, short for Arizer Go, delivers a great pocketable portable with an appealing feature set.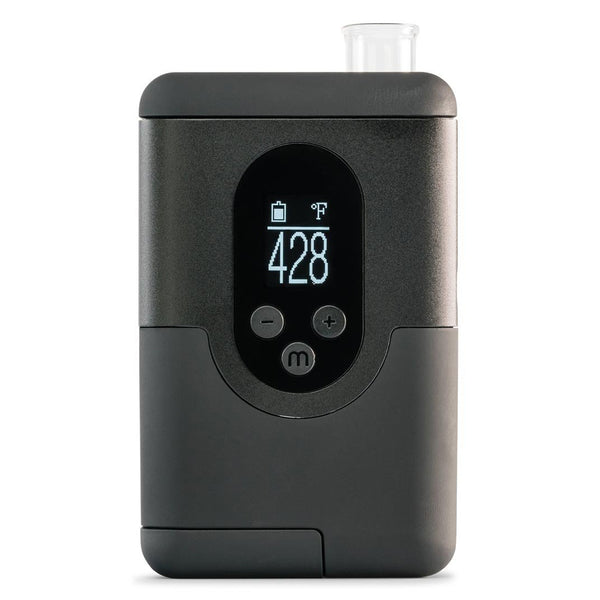 $149.99 Regular price: $159.99
Arizer packs their signature quality in a palm-sized package.
Smooth, tasty vapor
Super pocketable
Swappable battery - endless power
Internal glass stem - protected!
Custom settings to suit your style
SHOP NOW
Free Shipping
Easy Returns
World Class Customer Service
Love the vapor
Arizer vapes always boast smooth, tasty vapor, and the ArGo is no different. The first pull is thin and flavorful, while the next two to four draws come out as thick, impressive clouds. The last few draws are clean up hits, but they stay nice and cool. That's largely owed to the hybrid heating Arizer loves to use in their portables, matched with the right material choice in the air path -- stainless steel, ceramic, and glass -- no plastic here. If you're looking for clean vapor that's bursting with flavor in an ultra-portable package, look no further.
Swappable battery
The ArGo's swappable 18650 battery is the same Panasonic NCR18650b you'll find in a number of other high end portable vaporizers, including the Arizer Air 2. You can charge it in the Arizer Go via USB, or outside of it with an 18650 compatible charger. This lets you keep the party going until you run out of charged batteries. It's one of our favorite features, and Arizer's reliance on it sweetens the pot.
Size Specs
Height 3.5in / 9cm
Width 2 in / 5cm
Depth 1 in / 2.5 cm
Weight 3.4oz / 96 g
Finally, Arizer in your pocket
With the release of the ArGo, Arizer has created a design that delivers a more convenient pocketable option that delivers Arizer's signature vapor.  The Air and Solo's separate glass stems require you to carry extra pieces, and attach them only when it's time to vape. The ArGo's stem, on the other hand, safely fits entirely within the chassis when not in use. That, plus the smaller overall footprint, means it fits comfortably in any hand or pocket, something the Air 2 and Solo 2 can't claim.
Digital display with full control
No Bluetooth app needed here, the ArGo packs all the controls you could want right on the device. It has a full temperature control , from 122° to 428° F (50° to 220° C) and a battery indicator to show remaining charge. You can also change the on/off and temperature-reached indicator sounds, shut-off timer, screen brightness, and start-up timer, all directly from the device.
The only additions we would've liked to see are vibrating haptic feedback, and a countdown timer for session timeout. Otherwise, we're pleased Arizer was able to fit a full suite of controls on a compact unit.
Comfortable, open airflow
The Air 2 and Solo 2 focused on a wider, more open airflow, and the Arizer Go delivers the same, refined experience. With more than enough air flowing through the vape, it's easy to settle into a comfortable draw that takes little to no effort.
Does the Arizer ArGo have convection heating?
The Arizer ArGo vaporizer relies heavily on conduction heat, but also has some convection in the mix. The bowl's temperature rises during a hit to increase vapor, and stays at a lower baseline between hits. If you let it heat long enough without taking a draw, it can cook the bowl all the way through.
Hybrid heating for efficiency
The ArGo's hybrid heating is elegant and effective, with a glass stem at the center of system that isn't just meant for convenience and looks. The glass helps keep the herbs at a stable temperature while taking a hit, and lets them cool down quickly between draws to stay fresh throughout your session. All of this while never emparting any off flavors, so you can taste your herbs. This is the same heater in the other Arizer vapes, just smaller and slightly rearranged. The result is great vapor without the extra bits and pieces.
Decent heat up time
Glass is great for keeping your herbs fresh and tasty, but the tradeoff is slightly slower heat up times. It takes about 60 seconds to reach 390° F, and 90 seconds to reach its top temperature, 428° F. That's right in line with the Arizer Air 2, if not a little faster. While it won't set any records, it's a good fit for a quick or relaxing session. That being said, if you're looking for an on-demand vape for a quick draw, the Arizer ArGo doesn't fit the bill.
Good battery life
Arizer says the ArGo can vape for up to 90 minutes on a single charge, and our testing actually put that number closer to 100. In actual use, you should be able to get through 8 or 9 full bowls without needing to swap out batteries or find an outlet. That's a good runtime for a vape this size, plus you can always throw a charged battery in your bag, and swap it out when you start to run low on power.
New shape and shell materials
The more portable Arizer Go is also fitted with new materials, and a new look. The push-top that slides down to expose the glass stem is plastic, with an anodized aluminum midsection. The bottom piece is also plastic, but coated in silicone for a softer touch. All of the plastic parts are high quality, and are both food and medical grade, as well as heat-rated to temperatures well above the ArGo's operating range.
A little harder to clean
A more compact design also makes the inside a bit more challenging to clean. The oven is far at the back of the device, so a standard q-tip just barely reaches. Thankfully, you shouldn't need to clean it often, as long as you acquire a couple good habits. Make sure to blow out the stem and oven after each use, to prevent any buildup. Always pack the stem leaving a bit of space - 1 mm or so - between your herbs and the oven-end of the glass. This will help keep any real mess out of the oven, which could cause off flavors.
Loading and bowl size
Loading is easy, thanks to the Arizer ArGo's glass stem. Simply scoop up your coarsely ground herbs with the stem's business end, and lightly tamp them down, leaving about a 1 mm air gap at the bottom. Each stem holds about 0.3 grams if you really pack it in, but we find 0.1-0.15 grams is tastier, and easier to draw. It even works with whole chunks of flower, just be prepared for a longer session of thinner draws.
What's In The Box
ArGo Vaporizer
18650 Battery
USB Charger / Power Adapter
Glass Stems
Stirring Tool
Belt-Clip Carrying Case
Owner's Manual
Two year warranty
Arizer covers any material or workshop issues on the ArGo for two years, and covers the heating element for life. The glass stems aren't covered, but they're fairly cheap to replace if they break. There's no warranty on the batteries, but once again, 18650 batteries are cheap to replace, and you may want extras anyway.
As always, any vaporizer purchased from us is covered by our 100% Satisfaction Guarantee.
Which Arizer portable vaporizer to choose?
Arizer now has 5 portable vaporizer options that all boast similar heating styles and vapor quality. If you aren't sure which is right for you, you aren't alone.  Long story short we found that even head-to-head-to-head, the vapor quality is nearly identical, but the vaporizers differ on key factors like portability, heat up time, battery life, swappable batteries and more. We pitted all five vapes against each other, and will have detailed comparisons for you soon!
Who is the ArGo for?
The ArGo takes tasty, smooth vapor, and packs it into a truly pocketable form factor. If you're already an Arizer fan, this is the truly portable vape you've been waiting for. The ArGo is also a solid choice if you're looking for a new vaporizer backed by consistent, proven technology, and a solid warranty from a company with a good reputation. As long as the price doesn't scare you off, you'll be pleasantly surprised by this pocket-friendly vape.
Who is the ArGo not for?
With a 60 second heat up time it's not great in situations where you just want a quick hit. The Arizer ArGo also doesn't come cheap, so it's totally reasonable to look elsewhere if a CAD$217 price tag feels steep. The Arizer Go has a lot of competitors that beat it on price, and only a few that cost more. Instead, a few clutch features carry the ArGo, so if you're mainly vaping at home, and or you need something with a bigger oven, it may not be the right choice.
Final thoughts
The ArGo puts battle-tested Arizer hardware into a form factor we've been craving, and the result is a hit. Great flavor, wide open airflow, and a fully decked out set of controls are great features on a portable vape, we just wish it didn't cost so much to see them all in one place. For anyone looking to take flavor on the road, the ArGo is a great choice.