Go to our US store
Free shipping anywhere in US
Buy in US dollars
Order ships from our warehouses in US - no delays at customs
Visit US Store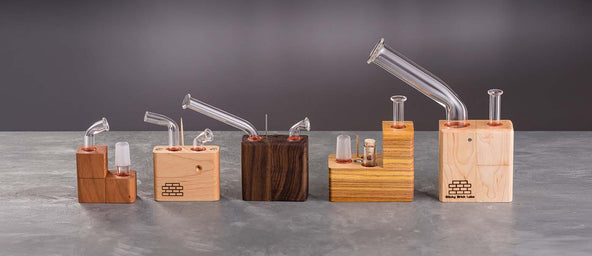 Sticky Bricks Vapes: A Unique Experience
Sticky Brick vaporizers stand out from the rest with the experience alone. With a butane lighter in hand, you're put in the driver seat, and control everything from the heat placement to the airflow Each session is personally catered to you, as you hone in on your senses and navigate yourself to the perfect hit. This level of detail introduces a layer of personality that isn't found in most vaporizers. Grab a Brick and settle into the ritualistic nature of vapor production.
Pure, Convection Vapor
Sticky Brick vapes utilize a butane torch lighter, like DynaVap vaporizers, but only heat and vaporize your herbs when you inhale. With a glass mouthpiece and glass flame intake, airways are clean and provide pure, tasty vapor that caters to you and your own vaporizing style.
Do you like slow, steady sessions? Use a lower flame setting with a steady draw. Do you prefer large, fat rips? Remove the restrictor disc and pair a higher flame setting with a strong inhale. Make sure you feather the carb for slight airflow adjustments!
Desktop Options
The Hydrobrick Maxx is Sticky Brick's mac daddy unit with all the features to serve as the perfect desktop driver. With a glass stash and cork, an 18mm male joint, and a protective cover, the Maxx comes ready to produce all day long. For the glass monger, the Flip Brick comes ready with a 14mm and 18mm male water pipe adapter to drive your favorite glass rig. The Sticky Brick OG sits in between the desktop and portable options, with a robust construction big enough to sit at your desk, but compact enough to carry around the house.
Travel Options
Road trips and outdoor excursions are manageable with the Sticky Brick Jr. With smaller glass pieces and a magnetic lid, the Sticky Brick Junior portable vaporizer packs up into a practical size you can throw in a small bag or purse. The Sticky Brick Runt is another option, with a footprint small enough to carry around your house without taking up a lot of space. The longer mouthpiece takes up a lot more real estate, but traveling with it is definitely possible. Both the Junior and the Runt prove that size isn't everything, pumping out tasteful clouds that can keep up with even the biggest names in the industry.
Warranty
Sticky Brick vaporizers are covered by a lifetime warranty against manufacturer defects. All glass is covered by a 15-day warranty against manufacturer defects. Each Sticky Brick vaporizer has a 1-year warranty when purchased from Planet of the Vapes and, as with all vaporizers purchased from us, you are also covered by our 100% Satisfaction Guarantee.
If you are looking to buy a Sticky Brick vaporizer, you've come to the right place - we are an authorized reseller and offer our bonus item with each Sticky Brick vape purchase! Still unsure on which Sticky Brick is right for you? Be sure to check out our Sticky Brick Vaporizer Review for an in-depth rundown of each unit.