Go to our US store
Free shipping anywhere in US
Buy in US dollars
Order ships from our warehouses in US - no delays at customs
Visit US Store
Ditanium Vaporizer
Free Shipping
Easy Returns
World Class Customer Service
Shop with the most trusted vaporizer store
Who's the Ditanium vape for?
The Ditanium desktop vape is perfect for at-home vaporizing with the desktop power to drive all of your dry herb and concentrate vaping needs. With a titanium and quartz nail for concentrates, and a glass wand for dry herbs, you can vaporize both at the same time, a rarity in the vaporizer world. If you need a vape with a punch, then this is a great buy!
Strong, potent vapor
The Ditanium brings the power of full convection heating to a massive bowl for dry herbs. The ceramic heating element of this unique desktop vaporizer gets plenty hot to capture the rich terpenes in a thick, punchy hit, without any waste or unpleasant flavors.
Herbs and extracts, at the same time!
Not only does the Ditanium dry herb vaporizer sport full convection heating for dry herbs, it also has an e-nail on top for all your extracts, in a tight, convenient package. Unlike popular choices like the Volcano or Arizer Extreme Q, the Ditanium can vaporize your extracts and dry herbs individually, or all at once for a killer combo! The distance from the e-nail to the dry herb bowl is perfectly calibrated to give you the ideal temperature for a dab and dry material at the same time.
Easy e-nail cleaning
The Ditanium maximizes ease of use with a simple and easy way to clean, thanks to its huge temperature range. Just turn the heat all the way up to four o'clock and watch it burn off.
Quick heat up
The Ditanium heats up to temperature in under a minute, with a self-cleaning feature for the e-nail that climbs all the way up to 900F. Like most vaporizers, hits are stronger with a little more time to soak up the heat.
Whip vape connects to glass
Enjoy hookah style sessions with the Ditanium. Fill the herb chamber of the wand, and connect it to the vape for superb flavor and vapor you can settle into by yourself, or enjoy with a group of friends. The titanium mouthpiece doubles as a water pipe adapter with a slight taper to pair with any 14mm female connection.
Must have carb cap

Once you've had the carb carp/aromatherapy bowl for the Ditanium vaporizer, you'll consider it essential. When placed on top of the titanium heater cover, it activates the low-temp dabs, and acts as a boost mode for dry herbs. It's not included in the box, so pick one up when you get the vape.

Pure materials
Pure grade, quality materials keep the taste of your herbs and extracts pure and intact. The titanium and quartz dish with glass housing ensure a safe and efficient heat transfer for a top shelf experience.
Built to last
The Ditanium's hardwood construction and design keeps everything in a tight package that is stylish and safe to keep on your desk or table. The recessed heating element prevents burns and protects the internals.
Warranty
Ditanium Vapor offers a two-year warranty on manufacturer defects, and 90 days for the LED light. They do not offer a warranty on glass components. As with all vaporizers purchased from Planet of the Vapes, you are covered by a 14-Day Satisfaction Guarantee.
What's in the box
1 x Ditanium Vaporizer
1 x Glass Handpiece/Herb Chamber
1 x Silicone Whip
1 x Titanium Mouthpiece/Adapter
1 x User Manual
Technical specifications
Ceramic Heating Element
Heat up: less than a minute
Height: 5.75 in
Width and Depth: 4 in
Weight: 1lbs 3oz
Temperature range: Enail - up to 900F
2 year warranty on manufacturer defects
90 days for LED bulbs
100% Satisfaction Guarantee
Customer Reviews
Write a Review
Ask a Question
Filter Reviews:
whatever
man-cave one
Ditanium
mother effect
dabs
unit
cannabis
herb
flower
vape
03/14/2021
Richard H.

Canada
Think this is my end game vaping device!!
Fast pulls/draws (perfect for water pieces and huge clouds) Loosely pack (just touch don't press firmly) Temp 12-1 o'clock position Fantastic fast extraction Clean the screen after each bowl and make sure air holes aren't clogged. Install 2 mesh screens! Helps keep glass clean and helps keep screen in place as well stops flower getting stuck in edges. Flavour 9/10 Vapour satisfaction 11/10 Easy of cleaning 8/10 Very smooth yet dense vapour that's not dry or overly harsh. Hard to compare vaping devices but this has the perfect smoke like high.. think that says it all!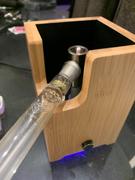 02/09/2021
Michael M.

Canada
Best Desktop Vape for flower AND concentrate
I love the Ditanium vape. This is my second unit (this one is a dedicated man-cave one). I switched to vaping about 10 years ago and the Ditanium is the closest thing to smoking.... It's the best way to consume herbs; dry flower, dabs, whatever. This thing rocks!!
11/29/2020
Clint D.

Canada
Great producy
Love this mother effect! Hitting a dab and herb at the same time is a nice time.