Go to our US store
Free shipping anywhere in US
Buy in US dollars
Order ships from our warehouses in US - no delays at customs
Visit US Store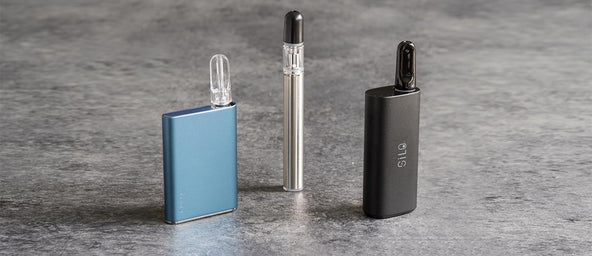 CCELL Vaporizers & Cartridges
The CCELL difference
CCELL entered the space with the goal of providing products that excel in every way, and have done so with their patented heating tech and stylish physique. CCELL batteries promise over 150 puffs per charge, are easily concealable, and dead simple to use with breath-activated vaping. With four different colors to choose from, CCELL has stylish options for every vaporist on the go.
CCELL Silo vs Palm
The Silo and Palm are CCELL's leading batteries for portable vaporizing. Each one can deliver up to 200 puffs per charge, comes in four different colors, and is ultra-pocketable. The CCELL Silo provides more protection for your cartridge from bumps and tumbles with its enclosed port, with only the mouthpiece sticking out of the top and a small window on the side. The CCELL Palm's flat shape takes up less space in a bag or purse, and has an opened port so you can easily see how much is left in your cartridge. Both batteries excel at their craft, and are great options for vaporists on the go.
The CCELL M3
The CCELL M3 brings the old school vape pen feel, with a pocketable size and pencil-like form. This battery is ready to go as soon as you take a draw with its breath-activated function, and can deliver up to 150 puffs per charge, with no buttons or extra steps. The M3 is a great option for users looking for a more affordable option, or for anyone who prefers the classic feel of puffing on a cigar.
CCELL Magnetic Battery Adapters
Most vape pen battery solutions require you to manually screw your cartridge onto the battery. CCELL eliminated this outdated method with their magnetic connections, and has conveniently made it so that any oil user can benefit from their breath-activated batteries. The CCELL Magnetic Battery Adapters screw on to any 510-threaded cartridge, which allows you to connect it to any Palm or Silo for quick and easy swapping,
Authorized Retailer of CCELL
Planet of the Vapes is proud to be an authorized retailer of authentic CCELL batteries and cartridges. When you buy your CCELL from Planet of the Vapes, you are covered by a one year manufacturer warranty, and as with any product bought from us, you're also covered by our 100% Satisfaction Guarantee.