Go to our US store
Free shipping anywhere in US
Buy in US dollars
Order ships from our warehouses in US - no delays at customs
Visit US Store
Regular price
C$519.00
C$389.25
You save: C$129.75
We've detected that you have blocked cookies on your browser. Our website requires cookies to be enabled in order to function properly.
Free Shipping
Easy Returns
World Class Customer Service
Complete your setup: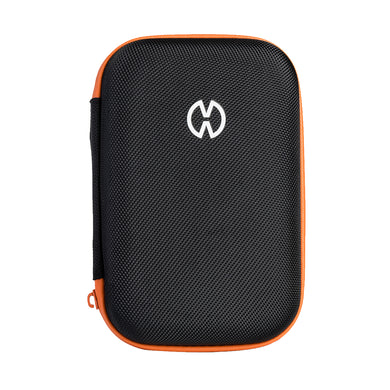 Features
Hybird heating system produces consistent & efficient vapor
Easily start your sessions with simple controls
Start your sessions quickly with a 60 second heat up time
Charge anywhere with USB-C charging
Have peace of mind with UL Certification
Regular price
C$519.00
C$389.25
You save: C$129.75
Shop with the most trusted vaporizer store
Who's the Mighty Plus+ for?
The Mighty vaporizer has a stellar reputation as one of the best vaporizers on the market, and the new Storz & Bickel Mighty+ dry herb vaporizer takes it a step further. It's just as consistent and easy to use as the original, but with a few new features like USB-C charging, a supercharge function, and a faster heat up time. It's still a little big in your pocket, but compact enough for a small bag or purse, and delivers incredible sessions with both dry herbs wherever you go.
Consistent vapor quality
The Mighty+'s hybrid mix of conduction and convection heating delivers a unique, well-balanced session, with or without a grinder. Convection heating savors the herbal flavors while a touch of conduction provides a consistent and even cook throughout. Hits are like a breath of fresh air, with comfortable airflow, a swivel mouthpiece, and an effective cooling unit that conditions the hot air before it reaches your lips. If you need a grinder, the Herb Mill is the perfect choice.
One-minute heat up time
The Mighty+ vape eliminates painfully long heat up times associated with the original Mighty, with a more bearable time of 60 seconds, on average. This isn't lightning fast by any means, but it's a much needed improvement that you'll probably notice if you have the original Mighty vaporizer.
USB-C charging!
To accompany its great battery life, Storz & Bickel has upgraded from the original Mighty's outdated barrel charge port, to mainstream USB-C charging. Now you can charge the Mighty+'s dual lithium-ion batteries just about anywhere, and the Super Charger power adapter, sold separately, cuts charge time down to about an hour.
Improved stability
The Mighty+ dry herb vape comes with little feet on the bottom for better stability when you want to stand it upright, but there's a catch. Remove the stir tool and insert it backwards for a makeshift stand that actually works pretty well. It's not quite compatible with our Mighty stands, but it'll get the job done if you want something a little more sturdy.
Upgraded ceramic bowl
Just like the Volcano Hybrid filling chamber, the Mighty Plus comes with a ceramic coated heating chamber that's harder to stain and easier to clean, and provides a purer surface to vaporize your favorite herbs.
UL certified
Storz & Bickel's German Engineers are known for their sturdy and reliable vaporizers. The Mighty Plus portable vape takes it further as the first vaporizer to receive UL certification. Its battery, electrical, charging, and heating systems are certified and have passed safety inspections and testing. The rest of the Mighty+ vaporizer is built from durable, high quality materials that keep it strong without weighing it down.
Simple controls
Controls are limited to just three buttons; one power button, and two arrow buttons for precise temperature control. A full LED display provides all the information you need, from battery level to current and set temperature settings. No need to break out a separate Bluetooth smartphone app or program for additional tweaks. Everything, including the Superbooster is controlled on board.
Portable, not pocketable
The Mighty+ vaporizer is a cordless portable vaporizer, but don't expect it to fit comfortably in your back pocket. Look at it more like a convenient, yet effective way to vape at home, compared to a full desktop vaporizer like the Volcano Vaporizer. It's nearly twice the size of the Crafty+ vaporizer and even larger than a PAX 3, but still has the untethered flexibility of a portable vaporizer.
It turns out the Mighty killer we've wanted for years was to ultimately come from Storz & Bickel itself.
User manual

Download the Mighty+ manual here.
Warranty

We're authorized retailers of the Mighty+ vaporizer, and you're backed by a two-year manufacturer's warranty against defects (extendable to three with registration). You will need your device's serial number to be eligible for warranty work. This can be located on a sticker on the back of the box and on the back of the Mighty+. As with all vaporizers purchased from Planet Of The Vapes, you're also covered by our 100% Satisfaction Guarantee.
Be sure to check out our collection of Storz & Bickel accessories to complete your setup.
Disclaimer: Storz & Bickel vaporizers no longer include a steel mesh pad for dry concentrates.
| | | |
| --- | --- | --- |
|  Feature | Mighty | Mighty+ (Plus) |
| Price | $459 CAD | $519 CAD |
| Charging Method | Barrel Port | USB-C |
| Charging Time | 2 hours | 3+ hours, <1 hour with Supercharger |
| Bowl Material | Aluminum | Ceramic coated |
| Heat Up Time | 90 seconds | 60 seconds |
| Superboost | 1 Superboost option | 2 Superboost options |
| UL Certified? | No | Yes            |
What's in the box
1 pc. MIGHTY+
1 pc. USB-C Cable
3 pcs. Normal Screen, small
3 pcs. Coarse Screen, small)
3 pcs. Base Seal Ring, small
1 pc. Dosing Capsule
1 pc. Cleaning Brush
1 pc. Instructions for Use (concise)
Technical specifications
Height 5.5 in / 14 cm
Width 3.2 in / 8 cm
Depth 1.2 in / 3 cm
Weight 8.5 oz / 240 grams
104°F - 410°F (40 - 210°C)
2-year warranty, extendable to three years
100% Satisfaction Guarantee