Before portable vapes with electric heating elements and OLED displays, we relied on a lighter, balancing heat, airflow and timing. The VapCap M by DynaVap brings that ritual back to vaping, without the fuss, in an ultra-pocketable package not much larger than a cigarette. In an age of buzzers and Bluetooth, the DynaVap M ditches the electronics and gives you the perfect vape for your next vision quest into the backcountry.
Table of contents
What is the DynaVap M?
The DynaVap M T.E.D. (Thermal Extraction Device) is a portable dry herb vaporizer about the size of a cigarette. You manually heat it with a small torch lighter anywhere you feel like, no batteries needed! The technique requires a small amount of patience, but the rewards are great.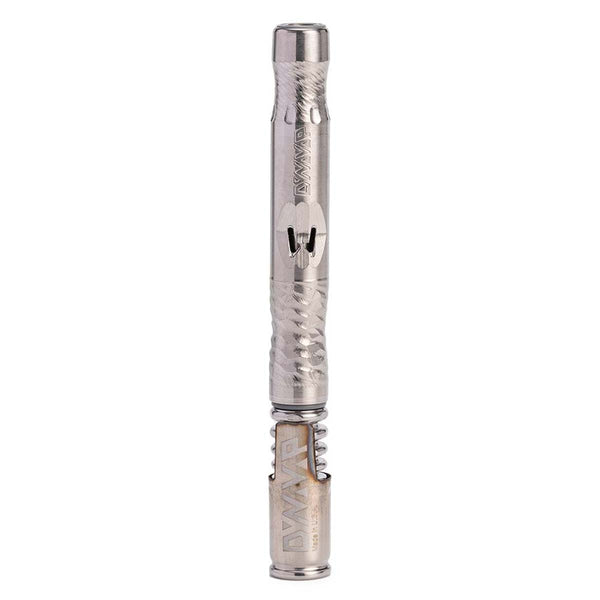 Starting at $80.00 Regular price: $100.00
The DynaVap M is a ridiculous value. The vapor is strong, the size is miniscule, and the low price will surprise you!
Great vapor
Amazingly small
Crazy low price
Captive cap stays put
Dual airports
SHOP NOW
Free Shipping
Easy Returns
World Class Customer Service
Is the DynaVap M good?
Absolutely - everyone needs a VapCap! The DynaVap M vaporizer is small, durable and effective, not to mention affordable! Be careful, though, because they're endearing. Once you learn the manual controls, you'll be hooked.
Is DynaVap really vaping?
DynaVap VapCaps heat dry herbs to a temperature below burning, releasing vapors for inhalation. So yes, they're vaporizers. However, given the recent stigma with e-cig vaporizers and the confusing laws surrounding them, VapCaps are now called T.E.D.'s, or Thermal Extraction Devices. Same product, different name.
Excellent vapor
We're always impressed by great vapor, and DynaVap's M Vaporizer sets a high bar for manual vapes. Its style of heating put the herbal flavors right up front, without sacrificing powerful hits. It's capable of producing perfect vapor right away, without the learning curves associated with early manual vapes, like the Vapor Genie.
No electronics, just a "CLICK"
Where a lot of manual vapes require the user to carefully manage heat and timing to ensure a perfect hit, the M has a trick up its sleeve. When it reaches the right temperature, a bi-metal thermostat inside makes an audible click to let you know it's time to vape, and again when it drops below the ideal temperature. Beginner or vape guru, pick up the VapCap M vaporizer and you should get a great hit without much practice.
How do I use it?
Take off the cap, load your herbs, and put the cap back on. Get your lighter going and twirl the cap in the tip of the flame -- preferably from a nice butane torch -- until you hear a click, letting you know you've reached vaping temperature. Lose the lighter and take a solid draw before it clicks again. Repeat as needed.
Respect the click!
The VapCap is easy to use and has an intuitive 'click' to let you know when it's ready to vape, but if you aren't paying attention to the 'click' you can accidentally combust. If you keep heating the Vapcap more than a second or two after the 'click,' your herbs will start to char inside, ruining the taste. Also, If you start re-heating the VapCap before it has clicked out of the vape zone on the cool down, it won't be able to 'click' to let you know it's up to temperature and you'll most likely overheat the VapCap and char your herbs. Luckily the M's all stainless steel construction means you can get it squeaky clean again, but it's a hassle you can avoid by "respecting the click!"
You control the vapor
Manual heating puts you in control of every draw. The familiar process and clicking mechanism make it easy to get a great hit, even on your first try. Start further out towards the tip at first for lower temperatures, and move in closer as you get more comfortable. It doesn't take much practice to master the DynaVap M.
A little goes a long way
The VapCap M comes with an adjust-a-bowl tip that has two settings - 0.1 grams and 0.05 grams. That doesn't sound like a lot, because it isn't. Even so, you'll be consistently surprised by just how potent a small hit off the VapCap feels. It's also perfect for users who want just a little bit at a time, or micro-dosing.
Though the capacity is on the low side, it's super easy to load, which makes longer sessions easy. You can load the VapCap by tamping it down into your grinder, or by using a dugout with a separate chamber for herbs.
Nearly instant heat up time
The VapCap M can heat up as fast as five seconds with a powerful four-flame butane torch. Even with smaller torches, you can expect the M to reach its vaping temperatures in under 15 seconds. Electronic vapes can take anywhere from 30-90 seconds to reach their full potential, handing the VapCap M a strong lead in this category.
How many times can you hit a DynaVap?
The number of hits you get off a DynaVap VapCap vaporizer, per click and bowl, depends on your hit style. Aggressive vaporists, with high heat and strong draws, can get one or two big hits per click, and go through a bowl in one or two heat cycles (clicks). I lean towards the slower side, and get one good hit per click, and go through about four or five clicks per bowl. A lot of technique goes into this, including the pack, draw, and heat style. You'll find your own groove.
No batteries, no charger, no charging time
Normally this is where we'd talk about battery life and charge time, but the VapCap M doesn't have any batteries. As long as there's butane in your torch, you can keep vaping. You'll be vaping at the end of your camping trip, long after your friend's electronic vape has run out of juice. And "re-charging" is as simple and as fast as filling the butane in your lighter.
Dead simple
Leaving out the electronics adds a number of other useful benefits. It's small enough to live in your pocket or a bag without taking up any room, although pulling out a torch lighter in public isn't exactly stealthy. The stainless steel body won't break, and will very likely last longer than anything battery-powered.
Normal grind
No need for a special grinder with the VapCap M. A medium grind is fine, as long as its coarse enough not to slip through the screen. You can even tear off a bit of material and jam it in there, and the VapCap M will handle it just fine.
Easy to clean
Its simplicity also makes it super easy to clean. The DynaVap disassembles into five metal pieces and five silicone O-rings for easy cleaning. Even better, there are no hidden spots for gunk to build up once everything is taken apart, which is always a nice touch. You can soak the metal pieces in ISO, and wash the o-rings in soap and water.
Only $75
The VapCap M comes in at a very appealing $75 price point (for the 2020 version), which is less expensive than pretty much every other vape. If you're looking for something more modular, check out one of these Dynavaps. Our VapCap Buyer's Guide can help you explore the full spectrum of DynaVap VapCap vapes with adjustable airflow, oven capacity, glass use and stylish looks.
We also offer DynaVap M Starter Packs. These full kits include everything you need to get started, with a torch lighter, a DynaStash carrying case, cleaning supplies, and replacement parts.
What's in the box?
The VapCap M arrives in a recyclable cardboard case, and that's it. While a standard Bic lighter will work with the VapCap M, they're far from ideal. It will take much longer to heat up, and leave soot on the lid. Instead, we recommend a butane torch. If you want to be ready to go as soon as it arrives, we'll include one with your VapCap for $10.
No official warranty
The VapCap M doesn't carry any officially stated warranty, which would be a concern if these had parts that could break. DynaVap vaporizers have a great record of taking care of any issues that might arise, and as always, Planet of the Vapes' 100% Satisfaction Guarantee means if you really don't have to worry about it.
If you're curious about the world of manual vapes, this is a great place to start. Smokers will immediately recognize the shape, and it does a decent job of imitating the ritual. Camping enthusiasts can take it along with them since they don't need a power source, just a full tank in their torch. Thanks to the adjust-a-bowl tip, you can easily micro-dose with carefully measured materials. Anyone who appreciates well-made tools will enjoy the VapCap M's simplicity and efficiency.
Overall, it's just a great vape that delivers great vapor and at $75, it can't be beat.
Who isn't the VapCap M for?
Anyone who is looking for specific temperatures should look elsewhere. Similarly, if you don't like the thought of using fire to vape, there are plenty of electronic options. The VapCap M can't match the spacious ovens of portables like the Boundless CF or CFX, although you may be surprised how far 0.1 grams goes when vaped efficiently. If you're a tech hunter in hope of Bluetooth connected apps, haptic feedback, and digital displays, this isn't the vape for you -- take a look at the PAX 3 or the DaVinci IQ2.
Final thoughts
As futuristic vapes with light shows for displays fill the market, there's something to be said for a simple, reliable portable vape. It shares its $75 price point with the most entry-level electronic vapes, none of which we even carry for good reason, and beats them handily in terms of vapor quality.