Go to our US store
Free shipping anywhere in US
Buy in US dollars
Order ships from our warehouses in US - no delays at customs
Visit US Store
Acrylic 2 pc. Grinder
Free Shipping
Easy Returns
World Class Customer Service
Shop with the most trusted vaporizer store
Customer Reviews
Write a Review
Ask a Question
12/11/2020
Judah A.
United States
Ouch
Maybe I'm doing it wrong but since the herb stays in the grinder chamber with the spikey grinders, it is tricky and painful to get it out.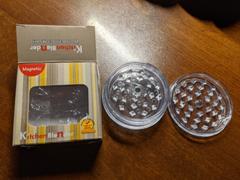 12/11/2020
Planet of the Vapes
Have you tried a small brush such as those that come with electric razors or trimmers yet? They typically work really well for this, Judah. Creating a service ticket for you not to discuss. Talk to you soon, Larry
10/08/2020
Melinda B.
United States
Does the job
Ok but plastic and no chamber on the bottom
10/01/2020
Mauricio G.
United States
Grinder is okay, but storage is difficult to access.
The bottom layer of the grinder which can store some grinded herbs is really hard to open because the plastic fits too tightly. I never feel like using it because if I store anything in there, it would probably fly out everywhere if I tried to open it again from the force it takes to pry off the lid. I guess it is okay for the price, but it's annoying since that feature would be so convenient but it isn't really functional.
09/16/2020
Don H.
Canada
Useless Plastic Grinder
Cheap, almost useless. Static electricity makes the herb stick everywhere. Aluminum is the only way to go,
08/03/2020
Benjamin S.
United States
F unwanted even if free
Just no get a grinder that has seprate chambers
08/05/2020
Planet of the Vapes
Hi Benjamin, Two piece, three piece and four piece grinders all of their place. There are many who prefer a 2 piece grinder in that it allows them total freedom to grind their herbs to whatever consistency that they want, which, unless you turn your grinder with separate chambers upside down, you cannot do. This 2 piece grinder definitely serves a purpose. While it may not be the best grinder for you, it very well could be the best grinder for someone else. Please stay safe out there. With best regards, Larry