Go to our US store
Free shipping anywhere in US
Buy in US dollars
Order ships from our warehouses in US - no delays at customs
Visit US Store
Arizer Air Vaporizer
C

AN

$129.99

Regular price

C

AN

$139.99
Free Shipping
Easy Returns
World Class Customer Service
C

AN

$129.99

Regular price

C

AN

$139.99
Shop with the most trusted vaporizer store
Arizer Air review & demo
Impressively efficient
The Arizer Air is an amazingly efficient and easy to operate vaporizer, with a foolproof design. You get great results, no matter the amount of material you decide to use or your experience level. A great vape for the experienced vaporist or a first time user looking for a high quality vaporizer.
Hybrid heating 
The Air features a unique combination of convection and conduction heating utilizing a high quality ceramic element with 5 pre-set and optimized, temperature settings. This gives a nearly desktop quality experience in a portable package with a heat up time of about 1- 2 minutes. The Air is well insulated and the body keeps cool.
Arizer Air temperature levels:
Level 1 (Blue) - 180°C / 356°F

Level 2 (White) - 190°C / 374°F

Level 3 (Green) - 200°C / 392°F

Level 4 (Orange) - 205°C / 401°F

Level 5 (Red) - 210°C / 410°F
Interchangeable battery
One of the nicest features of the Air is the high quality, rechargeable, interchangeable lithium battery. With about 1 hour of vaping power, bringing along a charged battery or two keeps your sessions going. The Air can also be used while charging which is nice at home.
Lightweight & compact
Ultra-compact, lightweight with a quality feel in the hand, the Arizer Air easily fits into your purse or pocket and comes with a convenient carrying case with room for an extra stem and battery. The sleek, solid design measures at 122mm in Height and 29mm in Diameter.
Warranty 
We are authorized dealers of the Arizer Vaporizers so if you decide to buy an Air from us your vape will come with a lifetime manufacturer's warranty on the heating element and a 2 year warranty on everything else (except the battery). As with all vaporizers purchased from Planet Of The Vapes, you are also covered by our 100% Satisfaction Guarantee.
What's in the box
Arizer Air Portable Vaporizer (black, titanium or silver)
1 x Air Battery
1 x Air Charger / Power Adapter
1 x Air Tipped Glass Aroma Tube (70mm)
1 x Air Glass Aroma Tube (70mm)
1 x Air Glass Aroma Dish
1 x Air Belt-Clip Carry Case
1 x Air Clear Protective Silicone Skin
2 x Air PVC Travel Tubes w./ Cap (70mm Size)
1 x Air PVC Travel Tubes w./ Cap (Aroma Dish Size)
Customer Reviews
Write a Review
Ask a Question
Filter Reviews:
size
device
vape
pain
money
friend
amount
charge
battery life
Canada
09/28/2020
Eric B.
Canada
Great product
Keep in mind that this is my first vape so I have nothing to compare it to. The build is solid and it feels like a quality product. I have been using it for a month now and so far I am very satisfied. I am saving a ton of money on herbs since using it. This thing will repay itself in less than 4 months for sure. Downside: - If you smoke everyday you have to charge it every day. - You have to change the dry herb quite often and it's a bit of a pain in the *** - Cleaning is not that hard to do but you need to leave the pipe part in alcohol overnight if you don't want to spend to much time scrubbing with a q-tips - Would be nice to know when the herbs need to be changed. Maybe a counter on how many puffs were taken since last refill? Overall very satisfied. I just wish I didn't have to change the herbs so often.
09/29/2020
Planet of the Vapes
Hi Eric, In regards to when to change out your herbs, do so when one of the following happens: ---When it starts to taste like burnt popcorn ---When you are no longer getting any vapor production a max temp of 196C ---When your herbs have gone to green to a very dark brown. Take care, Larry
09/21/2020
John J.
Canada
Arizer Air Vaporizer
So far so good. I am still missing the larger draw, but this is better than the Volcano I bought before.
09/21/2020
Planet of the Vapes
Hi John, Arizer vaporizers do have a bit more air restriction going on than other vaporizers but this is by design in that helps to increase vapor density. A few things to try that should help: ---Use a medium or coarse grind instead of a fine grind ---Pack the chamber of the Glass Aroma Tube more loosely instead of tightly ---When inhaling from the mouthpiece, gently tilt, spin, or lift the stem from the bottom of the bowl I hope this helps. If you have any further questions, John, please contact us here: https://www.planetofthevapes.com/pages/contact-us With best regards, Larry
09/13/2020
John M.
Canada
First Vape.
Not bad, a little hard on the amount of vape that comes out when inhaling. But I get it, once I'm familiar with the vape family, I'm moving up..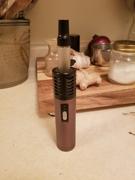 09/13/2020
Planet of the Vapes
Going to send you a link that may prove helpful, John. Check it out: https://www.planetofthevapes.com/blogs/blog/115913028-arizer-air-review-video If that didn't help, please contact me here so we can try to make this better for you: https://www.planetofthevapes.com/pages/contact-us Take care, Larry
08/20/2020
william t.
United States
Returning vape
Works perfect but will not charge.
08/20/2020
Planet of the Vapes
We'll take care of this for you, William. Looks like we already set up the return process. Please stay safe out there. With best regards, Larry
08/04/2020
Louis-philippe B.
Canada
Love it
So nice, buy one. It's solid and the dimensions are great for putting in your pockets