Go to our US store
Free shipping anywhere in US
Buy in US dollars
Order ships from our warehouses in US - no delays at customs
Visit US Store
Arizer Air Mouthpiece - 90 mm
Free Shipping
Easy Returns
World Class Customer Service
Shop with the most trusted vaporizer store
This Arizer Air Glass Aroma Tube is the mid-length model, coming in at 90mm, or three and a half inches. The length cools the vapor, and the glass keeps it tasty. This stem is compatible with most portable Arizer vaporizers, including the Solo, Air, Solo 2 and Air 2 vapes. We have a full selection of genuine Arizer accessories, including more stem styles.
Customer Reviews
Write a Review
Ask a Question
11/04/2020
Thomas M.
United States
It be fittin'
What can you say? It is a piece of glass with a fatter end (who does not like a fatter end?) and with 4 holes in it. I would not want to try to make one myself. I am glad someone else can make a buck making them. The world needs Arizer Air Mouthpieces. POTV's is a good place to get all your vaping needs fulfilled. I suggest you buy the tube and end cap and load covers as well. If only they would made those little load covers in neon colors so I can find them under my couch. Maybe a color other than orange so I can distinguish them from the doritos. Sorry, gotta go. It's time to vape. oh yeah.....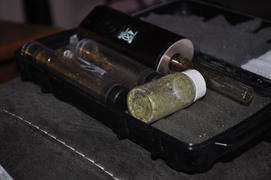 11/04/2020
Planet of the Vapes
Thank you for that review, Thomas. Made my day. Regards, Larry
10/15/2020
Rich A.
United States
Nice fit
The stems (2) I received fit very nicely in the vape. The 90mm is long enough to keep the glass cool to the touch at the tip where your mouth goes, which helps with being able to taste what you are vaping better. However, one of them had an imperfection at the tip of the mouthpiece. I noticed it out of the box. It small but it made that area a little sharp. Before I used it , I took some sand paper to it (varying in grit) to smooth it out. It was No problem. The second one was totally fine! I bought two just as a back up.
10/15/2020
Planet of the Vapes
Hey Rich, Let us know if that imperfection is an issue. If so, we'll replace it for you. Just contact us here: https://www.planetofthevapes.com/pages/contact-us Please stay safe out there. With best regards, Larry
09/24/2020
AV123
United States
Don't buy this
I can't speak for the 110mm stem sold by this vendor, but the 90mm I received was NOT an OEM item. It is way too loose, and is machine made. There are no striations on the tip. ...meaning it was not hand made. Even the third party black glass which I ordered as well fits snug and is definitely hand made (striations). I guess you get what you pay for....it was only 5.95. If you want an OEM stem, order it directly from Arizer's site. If I wanted a cheap replacement stem, I would have ordered one from Amazon.
09/25/2020
Planet of the Vapes
Hi Art, Really appreciate that you brought this to our attention. All of our Arizer accessories including the glass Arizer accessories are OEM products that we get directly from Arizer with the exception of the last 5 glass pieces on this page: https://www.planetofthevapes.com/collections/arizer-accessories?page=2 ...which is purchased after market and includes the 90mm piece you purchased. Original Arizer glass stems can fit a bit loose as well. Here is a quote that comes directly from Arizer: ---------------- "The fit of the Glass Aroma Tubes in the Solo II has been improved since the previous Air and Solo models, but there is some variance in how the Glass Aroma Tubes fit in all of our products. There's an objective behind the dish design and the mouthpieces; easy to draw on, smooth, not too hot vapor. At first, some Glass Aroma Tubes may fit snugly, and after a few uses the fit will loosen up a bit in every unit. The glass pieces will all fit differently into each unit because the glass parts are hand-made. The difference in fit is very slight – some a bit looser and some a bit tighter. The original Air and Solo models were designed for optimum performance and efficiency with loose fitting Glass Aroma Tubes which is why the ring above the heater bowl expands slightly, to allow for a looser fit and optimized air flow. There is nothing wrong with them if they fit loosely or tightly, but a loose fit is ideal." https://blog.vapefuse.com/arizer-aroma-tubes-and-mouthpieces/ ----------- With that said, if you still have concerns in regards to the glass stem that you purchased, you can return it for either a store credit or a full refund....your choice, Art. Creating a service ticket for you right now to discuss. Talk to you soon, Larry