Go to our US store
Free shipping anywhere in US
Buy in US dollars
Order ships from our warehouses in US - no delays at customs
Visit US Store
Arizer Extreme Q Vaporizer
C

AN

$181.65

Regular price

C

AN

$221.99
Free Shipping
Easy Returns
World Class Customer Service
C

AN

$181.65

Regular price

C

AN

$221.99
Shop with the most trusted vaporizer store
Who's the Arizer Extreme Q for?
Arizer's Extreme Q is a great vaporizer for anyone interested in going the desktop route. You get satisfying, quality vapor from a reliable workhorse with tons of features at a low price from one of the most trusted names in the vaporizer industry. With the level of versatility and quality the Extreme Q brings you get lots of bang for not too many bucks. What's not to love?
Extreme value
The Extreme Q is one of the best selling and most popular desktop vapes of all time.  While it's been constantly upgraded over the years to near perfection Arizer has been able to drop the price to almost half of what it cost when it was first released.
Compared to the infamous Volcano vaporizer, the Extreme delivers most of the same features at less than half the price. 
King of versatility
The Extreme Q lets you use a whip for directdraw or bags to fill with vapor. You can also kick it into fan assist mode to make those whip draws even easier on yourself. It has a remote control so you can get it warming up from all the way across the room. The Q works great with big or small loads depending on what packing technique you go for.
Thick, tasty vapor
The Extreme uses a ceramic heating element combined with a glass cover so your herbs taste their best. Once you get your technique down you can get vapor as thick as you want.
Great for beginners and pros
Arizer's Extreme Q vaporizer is easy to use and a beginner can get great results right away. With all it's delivery and temperature options, it's perfect for experimentation and flexible enough to keep you from getting bored. The vapor quality will keep you coming back long after you've figured it all out.
Always the latest model
When you buy your Arizer Extreme-Q Vaporizer from Planet of the Vapes you are guaranteed to receive the newest model available with the latest tweaks and features.
Warranty
The Extreme Q vaporizer comes with a 3 year manufacturer's warranty and, as with all vaporizers purchased from Planet of the Vapes, you are also covered by our 100% Satisfaction Guarantee.
What's in the box
Extreme Q Vaporizer | Latest 2018 Model
1 x Extreme Q Power Adapter
2 x Interchangeable Extreme Q Glass Whip Mouthpiece
1 x Glass Stirring Tool
1 x Extreme Q 3' Whip (Silicone)
1 x Extreme Q All-Glass Mini Whip
2 x Extreme Q Balloon with Frosted Glass Mouthpiece
1 x Extreme Q Spare Flat Screen
1 x Extreme Spare Q Dome Screen
1 x Sample Aromatic Botanicals
1 x Extreme Q Owner's Manual
Technical specifications
Latest Model
Ceramic Heating Element
Height 6 in / 15 cm
Width 6 in / 15 cm
Depth 7.5 in / 19 cm
2 Minute Heat up Time
100 - 240V Power
3 Year Warranty + 100% Satisfaction Guarantee
Customer Reviews
Write a Review
Ask a Question
Filter Reviews:
experience
vape
bags
feeling
water
dinner
research
desktop vape
high
vaporizer
Screens don't fit well
put together in sloppy fashion - the flat screens are too big so they fit in cockeyed and the dome screen is too small - constantly falls out - this thing is okay but it's not cheap and ****** parts are really annoying
01/13/2019
Planet of the Vapes
Hi Mark, Just created a service ticket for you. We will replace any screens or accessories that have fit issues. We need to get your Extreme Q working well for you. With best regards, Larry
MM
10/26/2020
Matthew M.
Game changing
Simple to use and economical, the Arizer Extreme Q provides an exceptionally smooth and flavourful experience and allows you to get several sessions out of one bowl. This has easily become my favourite method of consumption.
Good product...no grinder
I just purchased the EQ from POTV and am pretty happy with it. More than a little disappointed that I didn't get "Our included grinder" with it though. What's up with that? I know it doesn't state that at the heading but your other pages reference it, including Tyler Hixon's "Quickstart Guide". The Solo and the Air that I purchased from you did. If you have to cut corners might I suggest including the grinder but keeping the airtight container, they don't wear out like the grinders do.
10/25/2020
Planet of the Vapes
Hi Michael, We used to include a free grinder with every vape purchased but due to COVID-related production and shipping delays, we had to replace the grinder with a free 15.00 dollar gift card instead. Really sorry for the confusion here. Our marketing is now working to help eliminate this issue by including disclaimers under any videos that mention a free grinder. Thank you for bringing this particular "QuickStart Guide" to our attention. I hope you find the 15.00 gift card of equal value if not more. Please stay safe out there. With best regards, Larry
There's no question, It's The Q to the Extreme!
I don't know how there could be anything that works better with more options than this beast! Get yourself some DDAVE mods and you'll be in heaven. Good trick for the bags, go buy some eraser tops that we used in middle school. You can fill up a bag and save it for later!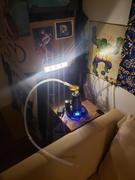 Doesn't heat up fast
Thought it was normal to have to wait an extra 5-10 mins for it to heat up to the desired temp. Turns out, that's not normal. My friend has the exact same model and was saying his was always ready to go as soon as the display reached the desired temp. Hopefully this is just a defect in the product, and not an accurate representation. If it is, then I'm highly disappointed.
10/16/2020
Planet of the Vapes
A 5 to 10 minute pre-heat is normal, Joe. Reaching out to you in a service ticket as we speak. Regards, Larry