Go to our US store
Free shipping anywhere in US
Buy in US dollars
Order ships from our warehouses in US - no delays at customs
Visit US Store
Arizer V-Tower Vaporizer
C

AN

$144.99

Regular price

C

AN

$164.99
C

AN

$144.99

Regular price

C

AN

$164.99
Shop with the most trusted vaporizer store
Who is the Arizer V-Tower for?
Arizer's V-Tower is perfect for anyone who wants excellent vapor at a great price from a desktop vaporizer. It kicks out satisfying, quality vapor with a reliable, time-tested design from one of the best names in the industry. With full digital temperature control, it's one of the best values you can find.
Great vapor
The V-Tower's ceramic and glass heater, paired with the included whip, make your herbs taste great. Balance the temperature with your draw speed to refine your technique so you can get vapor as thick as you want.
Full digital temperature control
The V-Tower's digital control panel gives you full control over the temperature you vape your herbs with a range that extends from 122⁰ F to 500⁰ F -- 50⁰ C to 260⁰ C.
Great value
Arizer stripped away anything not needed for great vapor to bring the V-Tower vaporizer to market at an incredible price. You'll enjoy vapor the way it was meant to be at any temperature without breaking the bank. Why get a no-name box vaporizer when you can have a quality unit from a company like Arizer?
Good for novices and experts
The V-Tower is easy to use, priced for beginners, and performs well enough for more experienced users. The vapor is cool and tasty, and will please even those who've been around the block with more expensive vaporizers.
Always the latest model
When you buy your Arizer V-Tower Vaporizer from Planet of the Vapes, you're guaranteed to receive the newest model available with the latest tweaks and features.
Warranty
The V-Tower vaporizer comes with a 3-year manufacturer's warranty and, as with all vaporizers purchased from Planet of the Vapes, you are also covered by our 100% Satisfaction Guarantee.
What's in the box
V-Tower Vaporizer Unit
1 x V-Tower Multi-Purpose Heater
1 x V-Tower Power Adapter
1 x V-Tower Glass Cyclone Bowl
1 x V-Tower Glass Aromatherapy Dish
1 x Glass Stirring Tool
1 x V-Tower 3 inch Whip (Silicone)
1 x Spare V-Tower Flat Screen
1 x Spare V-Tower Dome Screen
1 x Sample Aromatic Botanicals
1 x V-Tower Owner's Manual
Technical specifications
Heating element: Ceramic
Power: Wall outlet
Dimensions: aprox. 6 x 6 x 7.5 inches
Weight: 13 ounces
Operational Temp: 122 - 500 F
2 or 4 hour automatic shut off
Customer Reviews
Write a Review
Ask a Question
05/06/2020
christina s.
Canada
V tower
Way better for my lungs and way less product I use. Yah love it
05/04/2020
Robina B.
United States
Worth it!!!
Works perfectly! Everyday use not a single issue...in time I will have to order a new hose. Maybe back up glass top piece for when I break mine.
05/02/2020
Natasha C.
United States
Great
Saves you **** big time. **** = $$
JM
04/28/2020
Juan M.
United States
Beat expectations!!
Shipping was quick and efficient even through our pandemic. The quality of the vape I purchased, the Arizer V-Tower, blew me away! Was not expecting such a powerful machine and I absolutely love it. The free grinder and seal pack for residue is amazing honestly. You guys are great and I would highly recommend to anyone.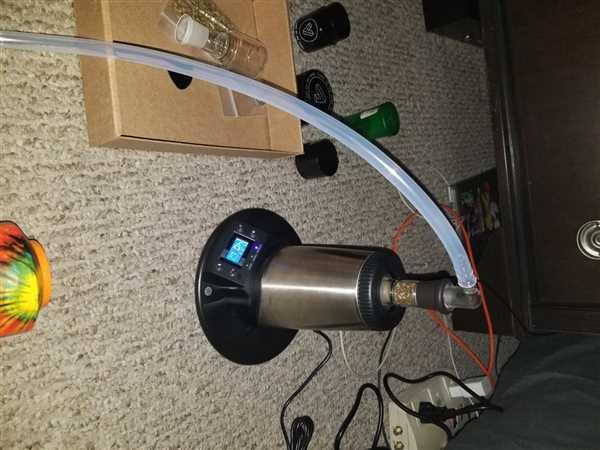 04/17/2020
Luis C.
United States
Tremendous investment
This product is, as advertised,+ the best value desktop vape on the market.