Go to our US store
Free shipping anywhere in US
Buy in US dollars
Order ships from our warehouses in US - no delays at customs
Visit US Store
DaVinci IQ2
Free Shipping
Easy Returns
World Class Customer Service
Shop with the most trusted vaporizer store
Who's the DaVinci IQ2 for?
The DaVinci IQ2 is for those who crave great tasting vapor wrapped in the latest tech, with a touch of class. In distinctive DaVinci style, the IQ2 improves on every aspect of the original IQ vaporizer, in a slightly bigger shell. DaVinci continues to innovate, with new features you won't find anywhere else, like air flow and dosage control.
Quick, satisfying vapor
With a heat up time under one minute, clouds from the IQ2 are quick and flavorful. The ceramic vapor path preserves taste, and the Flavor Chamber and mouthpiece cool the vapor as good as any portable vaporizer we've tried.
The IQ2 is bigger, a little slower, and more money than the original, but somehow better!
Variable air flow
DaVinci's new Air Dial lets you adjust how much fresh air comes in with each hit. Keep it closed for thicker, tastier vapor, or open it up for cooler, thinner vapor. With five settings, you can find your own groove.
Dosage control
DaVinci's latest innovation is brand new to dry herb vaporizing. With dosage control, you can track how much you've consumed, and even set alerts when you've hit your desired limit.
Android-only app
The IQ2 comes with a smartphone app that is only available on Android. The good news is most of the features are available on-board, including the new dosage control features. Don't blame DaVinci - Apple chose to ban all vaporizer apps in 2019. Only Android users can customize the smartpaths.
Adjustable oven size
The IQ2 has an adjustable oven, thanks to its "pearl", which unscrews to take up more oven space for smaller loads. The IQ2 pearl is improved from the original, with a better shape, easier threading, and a post that extends further, to make the oven even smaller.
Replaceable battery
The IQ2 uses a replaceable 18650 battery that you can swap out on the fly, to keep the vapor flowing. We love replaceable batteries. They're better for the environment, and protect your investment from becoming a $300 paperweight.
Tons of features and accessories
The IQ2 comes with two mouthpieces, one flat, and one with an extended 10mm mouthpiece that mates with glass. On-board, you get full digital temperature control, four smartpaths, dosage control, boost mode and stealth mode.
Stylish build
In full DaVinci style, the IQ2 has a brushed aluminum shell and a laser-etched sandblasted aluminum Air Dial. Magnetic lids, mirrored surfaces and beautiful curves complete the feel. This is a classy vape that's a joy to hold!
Dry herbs and extracts
This is DaVinci's first stab at extracts, with a unique ceramic pod and extract disc. While the IQ2 excels with dry herbs, it's best left for only occasional extract use, with its session style. But it's nice to have the option for those times when you come across some herbal concentrates.
10-Year warranty
The DaVinci IQ2 is covered by a 10 year limited warranty and, like everything we sell, our 100% Satisfaction Guarantee. The Limited Warranty does not apply to normal performance degradation of batteries, accessories, wear and tear of hinges, mouthpieces, or neglecting to adhere to cleaning instructions.
What's in the box
IQ2 Vaporizer w/Battery
10mm Mouthpiece
USB Charging Cable
Extra Pick Tool
Dosage Pod
Ceramic Extract Disc
9 Pieces Organic Cotton
9 Alcohol Wipes
Technical specifications
Height: 3.61 inches / 9.2 cm
Width: 1.75 inches / 4.5 cm
Depth: 1 inch / 2.5 cm
Weight: 5.6 oz / 159 g
Removable Battery
Temperature Range: 32° F - 430° F / 0° C - 221° C
Fully Adjustable Temp. Range
USB Charging
Warranty: 10 Years
Customer Reviews
Write a Review
Ask a Question
Filter Reviews:
ultra
programming
tracking
dosage options
spec
app connection
fail
some
magnets
option
11/12/2020
Joffrey .
Canada
IQ2 is a game changer!
So overall, I want to give the product itself a 5 out of 5. It has exceeded expectations. Each and every little fail from the first version has been rectified and new options are plentiful. The app connection I give a less than 5 personally because I still cannot connect the app to my vape after trying many times resetting and changing settings to troubleshoot. Some of design alterations have made this vape tighter in spec overall. From the magnets being stronger to the silicone mouth cover being tighter, to making the pick longer, and having a led dim option. These are all welcomed upgrades, just wish I could connect my Samsung s2p ultra to gauge the dosage options and tracking and programming .
11/13/2020
Planet of the Vapes
Working with you now, Joffrey, to get that app situation squared away. Regards, Larry
11/09/2020
Peter W.
Canada
IQ2 experience unsatisfactory for now
Hi, I hope this can be resolved, I've always been a DaVinci fan way back since the Ascent first launched. I've always considered it fair that when you pay a premium price, you receive a premium product but based on my experience in the last few years with my IQ and now my IQ2 it's seems I'm either running a streak of bad luck or DaVinci's manufacturing standards & quality control measures have dropped substantially. What options do I have to exchange my IQ2 for another new one vs seeking a refund? I really am a DaVinci fan but when it's almost impossible to get a quality draw from the vape it defeats the point of having one. I've tried multiple things to ensure it's not user error but still no luck. I look forward to hearing from someone. Thanks!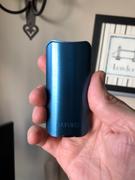 11/09/2020
Planet of the Vapes
Creating a service ticket for you right now, Peter. We'll get this squared away for you. Talk to you soon, Larry
10/15/2020
Roberta M.
United States
2nd Review IQ2
This is a great vaporizer. It is easy in the hand and just enough space in the oven for your product. The LED readings are extremely helpful and easy to read There is a learning curve on how to remove the flavor tube. That is why I originally gave the device three stars. Larry at customer service read my original three star review and contacted me immediately. He was helpful in getting me to know how to remove the tube. Great customer service! Thanks, Larry.
10/15/2020
Planet of the Vapes
My pleasure, Roberta. I just happy to hear that you are up and running again with your IQ2. Please stay safe out there. With best regards, Larry
10/08/2020
Roberta M.
United States
Flavor Chamber problem
I just received my IQ2 It is a great vaporizer. It has so many features. I would have given it five stars, but I cannot get "Flavor Chamber" out of the device to clean it. It's terrible. As Instructed by your video; I heated it and held it upside down. The only thing comes out is the rubber stopper. I am very disappointed as it seems I need to remove that in order to clean it.
10/08/2020
Planet of the Vapes
Creating a service ticket for you right now on this Roberta. We'll get this squared away for you. In the meantime, try heating it up again to maximum temp. Leave it at that temp for about a minute and then take 4 to 5 draws from the mouthpiece to help draw the hot air into the flavor chamber and then let me know in that service ticket if that helped or not. Regards, Larry
09/22/2020
Connor F.
United States
Honest Review
I did hours of research before buying my first ever herb vape. I found the IQ2 to be the best for my taste based on reviews and specs. Wow do I regret it. Pros: The device is sleek and the size is great. Cons: Cheap Materials, battery life is extremely short, battery dies over time and does not hold a charge. Within 2 months of ownership, the device starting acting up and gave troubles with the buttons on the side of the device. The Davinci manufacturer did not want to help. I finally convinced them to send me a new battery for the device. Both batteries are now dead and do not hold a charge. The device indicates the battery is full when plugged in, then when you go to use it, the battery is dead and won't operate. Overall, I regret buying this expensive device. For first time buyers, don't worry so much about looks. The sleek vapes are sometimes the biggest gimmicks!
09/22/2020
Planet of the Vapes
Creating a service ticket for you right now, Conner. We'll get this taken care of for you. Talk to you soon, Larry