Shop with the most trusted vaporizer store
Who's the Flowermate Slick for?
The Slick is a great choice for someone looking for a budget-friendly portable vaporizer that's well made, easy to use, and reliable. 
Easy to use
The Flowermate Slick gets it done with a single button for power and temperature control. After you've loaded the oven, just turn it on and it's ready to vape in around 40 seconds.
Even, consistent vaporization
The Slick's black ceramic oven uses conduction heating to evenly vaporize your herbs without stirring. Flowermate has a lot of experience with this technology, and your sessions will be consistent and predictable.
Good battery life with replaceable batteries
The Flowermate Slick is powered by one high-quality 18650 battery which delivers up to one hour of vaporization, or 10 to 12 sessions. That's strong battery life to go along with user-replaceable batteries. Oddly enough, though, there is no way to check the battery level.
Vapor quality
The Slick's vapor is flavorful and comfortable. The short glass mouthpiece does a surprisingly good job of cooling the vapor so your draws aren't harsh.
3 popular temperature settings
The Flowermate Slick has three temperature settings at 385° F / 196° C, 400° F / 204° C and 420° F / 215° C. The lowest setting is tasty with light clouds, giving way to thicker clouds with less taste on the higher temperatures.
Solid, attractive, build
The Slick has a black ceramic heating chamber, replaceable battery, glass stem, and laminated carbon fiber finish that looks good, but can also take a beating.
Universal charging
The Flowermate Slick charges via USB that works anywhere in the world. Whether you're using a wall plug, power bank, or even a computer, you're always able to charge up.
Oversized pen-shape
The Slick is only one inch in diameter, but is over six inches long and the top sticks out of most pockets. It's a better fit for a purse or bag. The glass mouthpiece screws on so herbs your won't accidentally spill out, and the magnetic cover helps keep smells in.
Simple maintenance
Cleaning the Slick is simple. Brush off the loading chamber and screens after each session and use a cotton swab with Isopropyl alcohol when the oils start to collect.
Warranty
We are authorized dealers of Flowermate vaporizers.  Your vape will come with a 1-year manufacturer's warranty against defect and 90 days on the battery. As with everything purchased from Planet Of The Vapes, you are also covered by our 100% Satisfaction Guarantee.
What's in the box
Flowermate Slick Vaporizer
One 18650 Battery (2500 mAh, 20 amp)
Oil/Waxy Chamber
Micro-USB Cable
Five Stainless Steel Oven Screens
Five Stainless Steel Mouthpiece Screens
Packing Tool/Dabber
Cleaning Brush
Stainless Steel Dry Herb Pod
Warranty Card
User Manual
Technical specifications
Height: 6.25 in / 16 cm
Diameter: 1 inch / 2.5 cm
Weight: 5 ounces / 144 grams
Removable 18650 battery (2500 mAh, 20 amp)
Three temperature selections - 385° F (196° C), 400° F (204° C), 420° F (215° C)
USB Charging
One Year Warranty
Customer Reviews
Filter Reviews:
vape
vapor
battery
price point
mouthpiece
vapes
chamber
POTV
size
Flowermate
10/28/2019
Rick H.
United States
Flowermate Slick
Great bargain. Shipping was fast, POTV is the place.
10/22/2019
Crystal L.
United States
Mouthpiece is flimsy
The vaporizer itself is fine, however during cleaning of the mouthpiece it subsequently cracked and fell apart. It was just outside of coverage by anyone so I'm now stuck with an inoperable machine.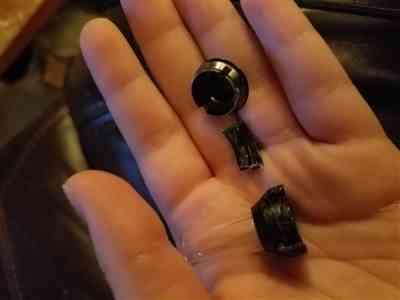 11/02/2019
Planet Of The Vapes
You're not stuck, Crystal. You are still covered under warranty. Creating a service ticket for you now so we can send you out a replacement. Sorry for the inconvenience here. We'll make this right for you. With best regards, Larry
I Love my Vape!
This is my second vape and I just love it. The bowl size is perfect! The Flowermate Stick is easy to fill, easy to clean, and it is very tastefully made I love my vape!
03/22/2019
Eugene O.
United States
A Good Beginners Vape
In My opinion the Slick is a good first attempt by Flowermate at a pen-style vape. The size is ideal and having a replaceable 18650 battery is a must. My only concerns were the somewhat restricted airpath; as compared to my XMaxx II and the chamber loading process can be a bit messy. Otherwise a good beginners vape an a good first attempt by Flowermate.
03/10/2019
Michael C.
United States
Flowermate Slick Vaporizer
I found it difficult to draw through. Of the 3 heat settings, the highest will give the best hit although, it's still a hard draw to get the heat through.
03/14/2019
Planet Of The Vapes
Hi Michael, I'm going to send you out some user tips. Pay particular attention to your draw technique. Very quick, short, cigar-like puffs works best with this vape. This inhalation technique is super important so as not to allow the incoming cool air to overcome the heat being provided by the heater. All vapes have their own unique learning curves, and your new Flowermate Slick is no different in this regard. With a bit of experimentation with your grind consistency, pack, temp settings and draw technique, you should be able to find the sweet spot that is right for YOU which very well may be different for someone else. Please read through these tips. Tips: Grind your herbs and pack the oven full with a gentle tamp on the top of the load. Turn the unit on to around 415F and wait for it to come up to temp. Then take short, cigar puffs, or long and slow draws. This draw technique is super important. This should get you on the fast track to success with this vape and you can tweak your technique from there. There are a lot of variables that go into the vaporizing experience, and the most important one is the quality of your herbs. I can't be of any help in assessing the quality of yours, but inferior herbs have fewer compounds on the surface and don't vape as well. Even with a very fine grind, cheap herbs usually make the experience kind of blah. So make sure you have high quality herbs and we can get to work on technique! If you are using the grinder we sent you then you will be fine. It grinds to a medium consistency and if you want it finer you can hold it upside down while you twist the lid. This will keep the herbs in the cutting chamber longer and get you a finer grind. After that, you want to use a full, tamped down pack. It doesn't need to be like a brick in there, but never loose. And you will want it full. The next step after packing like that is to turn it on, and set it to the highest temperature. Once it gets up to temperature give it another 20 seconds to heat soak and then give it some short, cigar-like puffs. If you have good herbs you should see some decent vapor on the first puff and more on successive puffs. You can also use a long, slow inhale that takes between 10 and 20 seconds...either puff method will work. That's all there is to it. From there you can adjust your grind, pack and temperature to your preference, but this is a good place to baseline from. If you still find that the draw is unsatisfactory, please click the help button in the top banner of our site and we'll get right on this for you. With best regards, Larry