Go to our US store
Free shipping anywhere in US
Buy in US dollars
Order ships from our warehouses in US - no delays at customs
Visit US Store
Flowermate V5.0 Pro Vaporizer
C

AN

$109.99

Regular price

C

AN

$119.99
Free Shipping
Easy Returns
World Class Customer Service
C

AN

$109.99

Regular price

C

AN

$119.99
Shop with the most trusted vaporizer store
Who's the Flowermate Pro for?
The Flowermate V5.0 Pro is a great choice for someone looking for an easy to use, well made portable vaporizer, with full temperature control and long battery life at a great price.
Easy with fast heat up time 
The Flowermate V5 Pro features a simple 3 button operation.  There is a power button which turns the unit on and off and + and - buttons to adjust the temperature.  Using the Flowermate Pro is easy.  Just turn the unit on, load the chamber with your favorite aromatic blend, and within 20 seconds the Pro is heated up and you're ready to vape.
Full temperature control 
The Flowermate Pro vaporizer features full temperature control in 1-degree increments allowing you to choose any temperature from 104-446° F or 40-230° C.  And you don't need to worry about your technique.  The temperature settings are programmed so that you will never combust.
Quality construction
The Flowermate Pro is constructed using quality materials featuring a ceramic heating chamber, pyrex stem, and an anodized aluminum shell.
Great battery life 
The Flowermate Pro has two high quality 18650 batteries giving you up to 2.5 hours of continuous vaping time.  A portable vaporizer with some of the best battery life on the market, the Pro also features a 6-minute auto-shutoff to preserve battery life and USB charging allowing you to power up almost anywhere.   
Even vaporization
The Flowermate V5.0 Pro uses conduction heat to vaporize your aromatic blends.  The ceramic heating chamber is well designed and your material is evenly vaporized with no stirring.
Smooth vapor
The vapor is pretty smooth.  The Flowermate has a short air path, but the glass stem does a good job cooling the vapor.  The flavor is good and you get about 10-15 draws from a fully loaded chamber.
Discreet & pocket size
The Flowermate vaporizer easily tucks away in your pocket and looks like a power bank.   And the loading chamber and stem are hidden behind a sliding compartment.  Also, the Flowermate has very little odor when not in use if you do some simple cleaning.
Works worldwide
The Flowermate charges via USB so it will work anywhere in the world. Charge using any USB wall plug, power bank or even computer if in a pinch. 
Low maintenance
Cleaning your Flowermate vaporizer is easy.  Just brush off the loading chamber and screens after use and use a Q-tip with Isopropyl alcohol if there is build up.
What's in the box
Flowermate Pro Vaporizer
Pyrex Glass Mouthpiece (Clear Glass)
USB Cable
Extra Screens
Concentrate Pod
Herb Pod
Cleaning Brush
Dab / Packing Tool
Manual
Customer Reviews
Write a Review
Ask a Question
Filter Reviews:
model
vape
price
breakdown
grinder
display
unit
flowermate
vaporizer
gift
11/24/2020
James A.
United States
Great Budget, Great Customer Service
Vape works great, plastic sliding pieces are a little cheap but expected. Customer service is some of the best I've ever used, incredibly helpful and fast.
09/03/2020
Larry R.
United States
Flowermate is good but no one responded to my instructions in my order
The Flowermate Pro is great but when I placed the order I asked if I could receive pods (not the wax ones) instead of receiving the free container. I submitted this with my order but no one ever read my request or responded. I received my order minus the slight modifications to my order.
09/04/2020
Planet of the Vapes
Hi Larry, Just looked at the ticket that you submitted to us on 6/12. We sent you a response on the same day but it may have gone into your spam folder. I'll repost that response here: ------------------ Hi Larry, Thank you for reaching out! We are no longer offering a Grinder + Tightvac as a bonus item because of the manufacturer in India has shut down temporarily due to Gov't orders. We are offering a $15 Gift Card + Tightvac instead. We regret to let you know that we currently don't have the option to switch the bonus items for something else. You can purchase dry pods with the use of a gift card. Please do not hesitate to contact us if you have any questions, we are here to help! ----------------------------- If this doesn't meet with your approval, Larry, please contact us here: https://www.planetofthevapes.com/pages/contact-us ...and we will do what we can to make this right for you. Awaiting your reply, Larry
09/03/2020
Taryn F.
United States
Poor battery life
The battery dies so fast! I didn't think it was going to die so quickly so that's disappointing :(
09/04/2020
Planet of the Vapes
Hi Taryn, If you haven't done this yet, I'd like you to put your vape on the charger and leave it there for 4.5 hours even if your vape indicates that it is fully charged before that time is up. You only need to do this extended charge once. Also, if you've been using a phone brick to charge your vape, try using your computers USB port instead. After doing the above mentioned extended charge, please get back to me here: https://www.planetofthevapes.com/pages/contact-us ...with the total on-time minutes (heat up time + vaping time, not the number of sessions) that you get after a full charge before the vape shuts down due to a depleted battery along with the temp that you are vaping at. If it's operating below normal specs, we will take care of this for you under warranty. Awaiting your reply, Larry
09/02/2020
Dennis O.
United States
Really Nice
I've had several Flowermate vapes. The digital V5 Pro is by far the best I've used. It takes the guesswork out of how much charge you have left which prevents over charging. I can get three to four uses before recharging whereas before I would charge after each use. The vape produced by the V5 Pro is always smooth and abundant. I'm very satisfied with this product.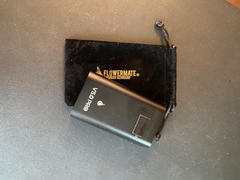 09/02/2020
Miguel G.
United States
Great mid tier vape
I used to own just the standard v5.0 and let me tell you this is a huge upgrade. For the price its a great budget vape that surpasses that entry level line just a bit.