Go to our US store
Free shipping anywhere in US
Buy in US dollars
Order ships from our warehouses in US - no delays at customs
Visit US Store
DynaVap Orion Induction Heater
Free Shipping
Easy Returns
World Class Customer Service
Shop with the most trusted vaporizer store
Orion Induction Heater (DynaTec)
The DynaVap Orion Induction Heater is DynaVap's smallest, most portable heater yet. Enjoy easy, consistent hits with your DynaVap M wherever you go with a blazing four to six second heat up time, from a compact, pocketable heater. Dynatec takes induction heating a step further, as the Orion senses when the vapcap is inserted. No more pressing down on a button to heat up. Simply place your VapCap inside until the heating light starts blinking orange, and wait for the click! The Orion comes with a zipper case, and a USB-C cable for fast, convenient charging wherever you go.
Who's it for?
For the avid DynaVap user on the go, the Orion Induction Heater is the perfect travel companion. It wields enough power to drive sessions anywhere and easily fits inside a small purse or bag. If money isn't a concern or you just want the best overall performance, the Orion is the way to go. It's also worth mentioning that this one heats on the warmer side. If you prefer thicker hits from the get go, or want hits that feel similar to a torch lighter, the Orion is a fantastic choice.
Who's it not for?
The Orion is our most expensive induction heater. If you don't see yourself traveling very much, the Apollo 2 Induction Heater costs considerably less. For the strictly at-home users that want to move around, the portable Apollo 2 Rover is a great option.

Check out the entire collection of DynaVap induction heaters!
Customer Reviews
Write a Review
Ask a Question
11/20/2020
Jason H.

United States
Worst dynatec product
Pros: Super portable Looks great Charges fast Cons: Very uneven heating and very finicky and dependant on how you pack it. Very wispy vapor Magnet on top is super weak Build feels super cheap for the price cmon guys just flimsy plastic protecting the internals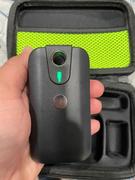 11/20/2020
Planet of the Vapes
The very last thing that we want is for you to have purchased a product from us that you are not happy with, Jason. You can either return it to us for a full refund, return it for a store credit or exchange it for another type of induction heater or another product entirely…you're choice. We'll pick up the return shipping both ways if needed. Creating a service ticket for you now. Talk to you soon, Larry
10/28/2020
Ryan L.

Canada
Broke after a day of use.
The machine was absolutely delightful for the day it worked; but after a day of use the power button snapped off and fell into the chassis, rendering it inoperable. No matter how good the device is at actually heating, it's no good if it self-destructs after a day.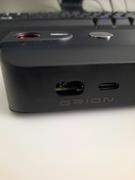 10/28/2020
Planet of the Vapes
That's not good, Ryan. I see that we are in the process of replacing this for you. Really sorry about he inconvenience here. We'll get this out to you as fast as we can. Please stay safe out there. With best regards, Larry
10/19/2020
Tanita R.

United States
Best accessory ever
If you ever loved the DynaVap and it's simplicity you will love the Orion. This takes the vaping experience to the next level. Faster hits are here to stay with this lil buddy.