Go to our US store
Free shipping anywhere in US
Buy in US dollars
Order ships from our warehouses in US - no delays at customs
Visit US Store
Sai Reverse Banger
Free Shipping
Easy Returns
World Class Customer Service
Shop with the most trusted vaporizer store
Use this Reverse Banger 14mm Female to attach the Sai Atomizer to your 14mm Male oil rig. The Reverse Banger connects to the Sai Atomizer mouthpiece, with a glass on glass connection on the other end for your bubbler. The green grommet is strong enough to hold the weight of the EZSai, but bigger box mods might be too heavy or bulky, depending on your bubbler.
Customer Reviews
Write a Review
Ask a Question
CR
08/03/2020
Christopher R.
United States
04/17/2020
zachary
United States
Don't waste your money
Broke in less than an hour of owning it by me trying to get my Sai out of the silicone. Incredibly thin glass. Buy the Poseidon instead.
04/02/2020
t l.
United States
****** broke before I was even able to use it.
I was not even able to use, the stem broke when I was attaching it to my piece, it also didn't come with the silicone ring. my buddy had an extra so I had one to use and wasn't going to ask for one. Disappointed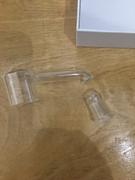 04/04/2020
Planet of the Vapes
Hi Trooper, Oooof. So sorry that this happened. Creating a service ticket for you now so we can discuss. Talk to you soon, Larry
02/18/2020
Colton P.
Canada
Nice Option
Nice option to have. Works as you would expect. My one wish is it was a bit longer.
Missing parts
Doesn't come with the grommet to use. Not planet of the vapes fault as it should have come in the sealed box (states on the side 1x reverse ****** and 1xsilicone grommet) fault lies with HVT or whoever's packages it. As it is without it's totally useless. Will review again when I can use it!
08/04/2019
Planet of the Vapes
Hi Mike, We really apologize for this. Creating a service ticket for you now so we can send you out that grommet. With best regards, Larry