**On November 15th, 2019, Apple removed all vaporizing apps from its store, including the PAX app. PAX has since created a simple workaround for all Apple/iOS users. Check it out here.**
PAX Era Pro vaporizer review
The PAX Era Pro builds on the successful PAX Era so well that it can be hard to tell them apart. The shape and size are nearly identical, leaving nothing but a slightly larger light display to distinguish the Pro, unless you opt for one of the new Pro-model-only colors. In this PAX Era Pro review, we'll take you under the hood to find out if it's worth more than double the price of the original PAX Era. But first, let's cover what makes both vaporizers so unique.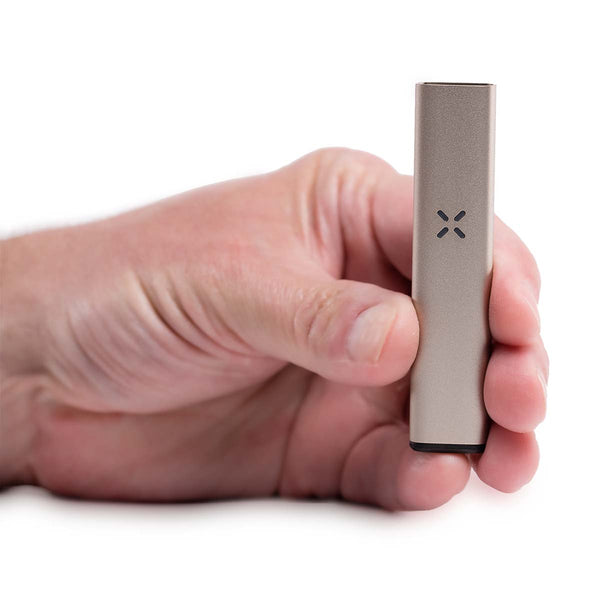 $59.95 Regular price: $99.99
SHOP NOW
Free Shipping
Easy Returns
World Class Customer Service
It couldn't be easier
The PAX Era Pro was built for ease. Pods drop into place instead of threading on and off. Your breath activates the heating instead of a button. A quick shake displays the battery meter. It even has four on-board temperatures that are easy to select without a button. Pre-filled pods are available from dispensaries in select states.
Check out our PAX Era Pro User Guide for a in-depth walkthrough.
Pods, not cartridges
While the most common form of vape cartridges attach to a battery with 510 threadings, PAX created a proprietary POD system that fixes a lot of problems, but are only available in a select list of states. To find out if you have easy access to the pods, you'll have to go to the PAX website and use a locator tool. We only sell the PAX Era Pro to people in those states. You won't be able to buy empty pods and fill them yourself. PAX works with select growers in each state to fill their pods.
Big hits from a dinky vape
With the PAX Era Pro pods, there's no exposed glass or plastic to break, the open airflow and better design is hard to clog, and the dual-coil system delivers big draws for potent hits. There are twin holes on either side of the Era Pro for increased airflow, but slower pulls will push out thicker vapor. The lowest temperature is light on visible vapor and strong on taste, while the highest temperature is too hot for many. Most people will land on the middle two temperature levels as their go-to.
Good battery life
Using the third temperature setting, we got through a typical cartridge (half ml) in three full charge cycles. Given how strong the pod's concentrate is, the PAX Era Pro can easily go for days without a charge. Best of all, it charges via USB-C from dead to full in less than an hour.
Pods are getting cheaper
The PAX Era Pro benefits from the foundation laid by the Era, as pods are now more plentiful and less costly than before. They're still more expensive than traditional 510 threaded cartridges, but there's more variety, and it gets better as time goes on. A year ago in my home state of Florida, where cartridges are available medicinally, I could only get pods from one dispensary across town, and they were all the same price. Today, I can get a selection right down the street, and the higher priced ones are clearly superior.
Solid, but less relevant app
**On November 15th, 2019, Apple removed all vaporizing apps from its store, including the PAX app. PAX has since created a simple workaround for all Apple/iOS users. Check it out here.**
The PAX App pairs with multiple PAX vaporizers via Bluetooth, including the Era Pro. It has the usual options like temperature control (to the degree), a battery meter, control of the light color scheme, and temperature profiles. You can also name your Era Pro, play games, and lock it for safety. Microdosing mode is a unique feature that lets you set a limit on draws for a small, more measured amount of vapor. The dosing calculations are based on energy used, which lets you stay at just the right level, without any variance.
PAX Era Pro vs PAX Era
The differences between the PAX Era and the PAX Era Pro are subtle, but everywhere. Unfortunately, the most functional upgrades are only through the limited-access app. Cosmetically, the Era Pro has barely rounder edges, a slightly larger light scheme, and comes in four color choices instead of one. The battery has a slightly higher rating, and charges via USB-C.
Changing the temperature without the app is a little easier with the Era Pro, but you'll need the app to customize the temperature to the degree, and access pod information. The pod lookup feature is welcome if you're the type to manually look them up, and useless if you don't. The most notable difference is the $40 price increase, and it can be hard to justify without app access.
Who is the PAX Era Pro for?
The PAX Era Pro is compact, featherweight, and punchy, but comes at a price. If you have access to the pods and app, and don't mind the one time extra $40 cost ($70 compared to $30 for the Era), the experience is hard to beat. This much vapor in such an inconspicuous package is liberating. Whether you need to power a small gathering, or fly solo for days, the PAX Era Pro makes it easy.
PAX Era Pro Pros & Cons
Pros 👍

Cons 👎

Ultra-portable

Punchy hits

Great battery life

High-quality pre-filled pods






App compatibility

Limited access to pods

Price

Bottom line

The PAX Era Pro is more expensive than the alternatives, but it really is better, if you have access to the pre-filled pods.
Who is the PAX Era Pro not for?
If you go through lots of concentrates, whether in groups or alone, doing it with the PAX Era Pro will get expensive. While it's incredibly convenient, it's not necessary for those that vape primarily at home. Of course, if you don't have access to the pods, there's no point at all.
Conclusion - Is the PAX Era Pro worth it?
If you have access to the pods and want a top shelf portable vape pen experience, there really is no equal. The real choice is between the Era and the Era Pro. The vapor is the same with either, so the choice comes down to features and charging. If you have access to the PAX smart phone app, the convenience is off the charts.
Where can I buy a PAX Era Pro?
Planet of the Vapes is an official retailer of all things PAX, so you can get the Era Pro right here. It comes with a full one-year warranty by PAX Labs, and your purchase is protected by our 100% Satisfaction Guarantee.