Get ready for the Saionara Atomizer, one of the most impressive extract pen vaporizers we've come across. It's a load-as-you-go vaporizer for concentrates, with a standard (510-thread) connection to mate with tube or box shaped batteries. The Sai has a quality that satisfies at home, but a form factor that wants to go everywhere -- you'll be amazed at how affordable and versatile it is. With multiple power options, coils, and water bubblers that keep it exciting, this is the one to get, whether you're a beginner or an expert.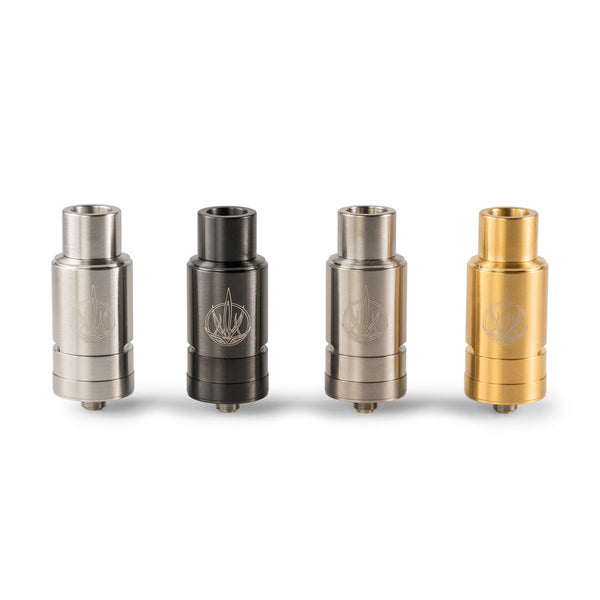 SHOP NOW
Free Shipping
Easy Returns
World Class Customer Service
Top shelf performance for the price of a pen
Picking a vape pen for load-as-you-go extracts can be overwhelming. There are tons of options from CAD$50 to CAD$200 that all look the same, and no way of confirming what they're made of. For the same price, the Sai blows them all away with top-shelf performance, made from quality, confirmed materials. It's what industry insiders use, but priced within anyone's reach.
Get a Sai and skip the home rig
The Sai debuted with multiple metal wire coils to choose from, but the latest coils are titanium and quartz cups, or mini-nails inspired by high dollar home rigs. Don't get us wrong, the Sai didn't have us running out to sell our obsidian and sapphire dishes, but if you don't already have a home rig, you may never need one. The Sai's form factor provides lots of variety for very little cost, and lets you take a relaxed hit without the rush, exposed hot spots, or plugs and wires that come with an electric nail, or e-nail.
Vapor quality
The Sai is capable of any hit you're chasing, from light and tasty, to thick and creamy. With over 15 different coils to choose from and variable power options, there is something for everyone. Some coils, like the 4mm kanthal, are built for fast, massive hits that go chest deep, while others, like the bucket coils, take longer to heat up and coat your mouth in flavor. If the vapor is too thick or strong for your liking, pick a water attachment to cool and smooth it out.
A starting place for everyone
Some vapes are for beginners, and some are for experts, but the Sai has a fit for everyone. Beginners can start with the EZSai and hit the ground running with two different coils and four power options that cover the spread of vape styles, without the confusion of a box mod. If you want more out of the gate, we've paired up some advanced box mods to power the Sai Atomizer. We tested each box mod to make sure they not only work well with the Sai, but are also easy to use. If you've already got a box mod, then you're in luck. Adding a Sai Atomizer will feel like one of the best combinations of performance and value you've bought for it.
Coils, coils, coils
One thing's for sure, you won't get bored with the Sai -- they're always developing new coils. We already have kanthal, titanium, stainless steel, ceramic, and clapton coils to go with titanium and quartz bucket coils, for what seems like endless options. If you like being on the cutting edge of development, the Sai will keep you fed!
Run it through water
What's a home nail rig without a glass water piece to smooth out the hardest hits? The Sai has three custom options that complete the experience. The Straight Glass Bubbler sits directly on top of the Sai and is the easiest to use. The Poseidon Bubbler V2 has a more laid back style, with a bent neck mouthpiece and glass chamber that hangs off the side. Already own the glass you like? Grab the Reverse Banger 14mm and use it with the Sai.
Durable and tested for purity
Pick up a Saionara and you'll feel the quality. Every unit is made of stainless steel or titanium. But the quality is more than skin deep. We took all the coils apart and found no glues or solder, and then we sent the metal wires off to the lab to have them analyzed. We're happy to report all the metals passed the tests and are what they should be.
Clean it, don't toss it!
Most pen vaporizers are disposable - they don't last long and aren't worth cleaning. But the Sai coils are more durable and can be cleaned like new with a soak in isopropyl alcohol. With normal use, you can get six months to two years out of a coil, while heavy users can expect half that.
Who's the Sai for?
The Saionara vaporizer is for anyone who wants to vaporize extracts that have to be loaded by hand. Beginners have the luxury of top shelf performance, at mid-range prices, with the simple to use EZSai. Enthusiasts can geek out on all the options, while staying on the cutting edge with a company that innovates. The Sai pairs with small batteries to go where you go, or with bigger, more powerful batteries and glass options to rival home rigs. It's a flexible system that offers nearly any extract experience you want, and grows with you.
Who's the Sai not for?
If you only vaporize dry herbs, or only use prefilled extract cartridges, then the Sai is not for you. It's also bigger than the average pen vape, with varying battery sizes, so if you need something more discreet, there are better options out there.
Our take
The Sai has us excited over here at Planet of the Vapes. Not only is this our first extract only offering, it's an amazing one. We tested piles and piles of pens over the last year looking for something worthy of our backing and your trust, and we finally found it. It's also fun to offer something that will always be expanding, so if you're looking to join in on the fun, make sure to check out our in-depth buyer's guide. With more coils always in development, and new box mods arriving weekly, you'll never get bored with it. We'll continue to test all the new Sai options and add new box mods that pair well with the Sai atomizer, so keep checking in for the latest updates!