Arizer Solo Vaporizer
C

AN

$139.99

Regular price

C

AN

$194.99
Shop with the most trusted vaporizer store
Who's the Arizer Solo for?
The Arizer Solo is for someone wanting great vapor at an introductory price without all the bells & whistles. In 2011 it set the vapor standard for portables and Arizer has released the Air and Solo II since then, but they have kept the Solo relevant with 6 years of continuous improvements. It's a no-nonsense choice for anyone wanting cool, tasty vapor without breaking the bank.
Vapor that set the standard
Ceramic heater, stainless steel bowl, glass stems - that's a material list you want in your airpath! By sticking with inert, proven materials the Solo keeps the standard it set years ago with pure, cool and tasty vapor. The only downside is the airflow restriction that it needs to keep the vapor thick will sometimes feel like you are sucking on a thick milkshake.
Rock solid
The Solo has been around a while, so you know it's tried and true with continuous improvements. It's one of the best selling portable vapes of all time and the design is so solid that Arizer used it for the Air and Solo II. All three vapes use the same heater, bowl and stem system. If it ain't broke, don't fix it!
Only features you need
Simplicity is the theme here with two buttons and 6 vaporizing temperatures (it technically has 7 temps, but we don't count the bottom temp of 50° C / 122° F) that cover the full range from 185° C / 365° F to 210° C / 410° F. High temp vaporists might want something hotter, but my herbs look completely spent after vaping with the Solo on the highest temp.
Good battery life
You should get 90 minutes to 2 hours of run time from the Solo on a full charge, or about 6 to 9 sessions. And if you need more than that it can be used when charging after about a 25% charge.
Portable, not pocketable
The biggest knock on the Arizer Solo vaporizer has always been its larger size and breakable glass stems that make it portable but not something that is easy to throw in your pocket. That coupled with a slower heat up time of 2 minutes makes the Solo great for more relaxed sessions around the house, at parties or hiking.
Fantastic value
The Solo holds its value at this price point because of its efficiency and cool, tasty vapor. You can find smaller vapes with more features for the same money, but the vapor is usually sacrificed. So if you're all about the vapor the Solo is a great deal!
If you're looking for more
If you've read this far but want smaller or more features, we won't leave you hanging! Check out Arizer's other very similar portables, the Air and Solo II. Both give you the same great vapor, but the Air adds pocketability and removable batteries while the Solo II adds features.
The latest version and updates
When you buy your Arizer Solo from Planet of the Vapes, you are guaranteed to receive the absolute newest model available with the latest features and updates.
Warranty
The Arizer Solo vaporizer has a two year manufacturer's warranty and a one year warranty on the battery. As with all vaporizers purchased from Planet of the Vapes, you are also covered by our 100% Satisfaction Guarantee. 
What's in the box
Arizer Solo Vaporizer
1 x Solo Portable Micro-Heater
1 x Solo Charger
1 x Solo Glass Aroma Tube (Curved)
1 x Solo Glass Aroma Tube (110mm)
1 x Solo Glass Aroma Dish
2 x Solo Silicone Stem Caps
1 x Stainless Steel Stirring Tool
1 x Sample Aromatic Botanicals
1 x Solo Instructions Booklet
Technical specifications
Diameter 1.75 in / 4.5 cm
Height 4.5 in / 11.4 cm
Weight 6.4 oz / 181.4 g
6 Temperature Settings
365° F - 410° F / 185° C - 210° C
Ceramic Heater
Stainless Steel Oven
2 Year Warranty
Customer Reviews
Filter Reviews:
vape
price
Arizer
taste
vapes
nothing
times
device
Warranty
couple
11/18/2019
Eric J.
United States
Small bowel and weak battery life
The glass chambers for herb is tiny, good for one person for one short smoke session. Battery life isnt great either. The device itself is very large not something you can carry around in your pocket.
11/20/2019
Planet Of The Vapes
Hi Eric, In regards to the battery life, the Solo has one of the best specs when it comes to battery life of any portable on the market at over two hours. If you haven't done this yet, I'd like you to put your vape on the charger and leave it there for 4.5 hours even if your vape indicates that it is fully charged before that time is up. You only need to do this extended charge once. Also, please know that it takes about 3 to 4 full charge cycles for the battery to stabilize and perform up to spec. After doing the above, please get back to me here: https://www.planetofthevapes.com/pages/contact-us with the total on-time minutes (heat up time + vaping time) that you get after a full charge before the vape shuts down due to a depleted battery along with the temp that you are vaping at. If it's operating below normal specs, we will take care of this for you under warranty. With best regards, Larry
11/17/2019
Gio C.
United States
Defected
The vape was really nice at first it lasted me about a week before it stopped heating up. It was my first dry herb vape heard a lot of good stuff about it , I just happened to obtain a defected one
11/17/2019
Planet Of The Vapes
I see that we set up a return/exchange for you. Sorry for the inconvenience here, Gio. The Solo is a very highly reviewed vape but as with any vape, things like this can happen. Please stay in touch, Larry
11/14/2019
damon j.
United States
12 min. timer issue
Really happy with the Solo. Over all a good vaporizer... BIG problem with the 12 min. timer. Goes off at all different times. Seems there are other people that have had the same issue Sent back for replacement, and waiting to receive a new Solo, and hopefully the problem will not return.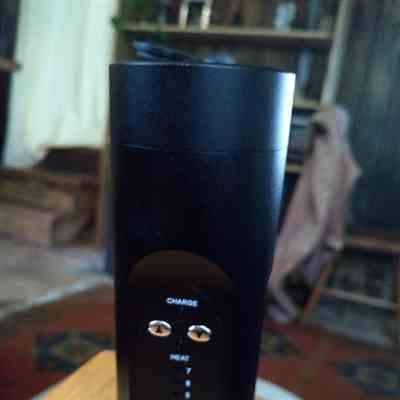 10/15/2019
David H.
United States
Old reliable
My wife and I have been using the Solo for several years and have never had a single issue with it. Easy, reliable, sturdy and easy vaping.
My new favorite consumption method
I just switched over to dry herb vaping with the arizer solo, and couldn't be happier with it. This unit is extremely easy to clean, literally 0 buildup on the vape you should only have to clean the mouthpiece. The smell proof container that is bundled works perfectly for ABV or fresh herb. If you are considering the switch this is an excellent option.