Go to our US store
Free shipping anywhere in US
Buy in US dollars
Order ships from our warehouses in US - no delays at customs
Visit US Store
Boundless CFV Vaporizer
C

AN

$132.79

Regular price

C

AN

$165.99
Free Shipping
Easy Returns
World Class Customer Service
C

AN

$132.79

Regular price

C

AN

$165.99
Shop with the most trusted vaporizer store
Who's the CFV for?
The Boundless CFV is a great vape for someone looking for an affordable, mostly convection, pocket sized vaporizer.  The 30 - 40 minutes battery life will work for most, but for those away from a charger all day, the CFV might not be the right fit.
Fast convection heating
The CFV has full digital temperature control, is ready to vape in around 30 seconds, and uses mostly convection, heating your material only when you're inhaling. 
Tasty vapor
Vapor quality is why we love convection vapes.  The CFV gives surprisingly cool, satisfying and most importantly, tasty clouds from a small package.
Perfect size
The CFV is the perfect size for a portable vaporizer.  Comfortable in hand and easily fits in your pocket.   The unique outer shell has a soft, grippy texture that helps insulate the vape and just feels nice.
Easy to use
The Boundless CFV is a very easy to use portable vaporizer. Just grind your herbs to a medium fine grind, load it up and you're ready to vape in 30 seconds. The vapor gets denser after the first few flavor hits and make sure to stir half way through your session!
Latest 2018 model
We carry the latest model of the Boundless CFV, that was released in August 2018. This version comes with an updated bowl design and no longer features (or is compatible with) the replaceable rings.
Warranty
The CFV comes with a three-year manufacturer warranty that covers everything but the battery, which has its own one year warranty.  The battery can be changed out by Boundless down the road for only $25. Like all of our products, the Boundless CFV is covered by our 100% Satisfaction Guarantee.
What's in the box
Boundless CFV Vaporizer (Latest 2018 Model)
5 Stainless Steel Mouthpiece Screens
5 Stainless Steel Chamber Screens
Packing Tool and Dabber
Water Pipe Adapter
USB Charge Cable
Brush
User Manual
Technical specifications
Height 4 ¼ in / 10.8 cm
Width 2 ⅜ in / 6 cm
Depth 1 ⅛ in / 3.2 cm
4.7 oz / 134 g
140° F - 446° F (60° C - 230° C)
Fully Adjustable Temp. Range
USB Charging
3 year Warranty and 1 year warranty on battery
Customer Reviews
Write a Review
Ask a Question
Filter Reviews:
battery
consideration
warranty
CFV Vapes
replacement
service
draws
uses
POTV
reason
09/23/2020
Marieve R.
Canada
Warranty return
Quick and easy replacement
05/28/2020
JDMIER .
United States
Best Kept Secret in the Vape World
I've owned two top end vaporizers prior to reading a good review on the Boundless CFV and giving it a shot. Now the other two vapes sit in my drawer. For less than half the price of my other vapes I was able to score the red one and never looked back. This thing is amazing. I've had it for about 1 1/2 years and it's still kicking strong. I love the water pipe adapter that comes with it. I use it all of the time. Cools the draw down considerably. Not to mention how cool this thing looks as part of my water pipe.
04/23/2020
Gary G. Hogue
Canada
Great service. Not so good product
The service I received from POV was excellent. Even after two failed CFV Vapes they replaced one last time. One thing all should know is that you get a long warranty with the CFV vape, But the battery is only warrantied for 90 days.. Might wanna take that into consideration as that's the reason I returned two of the CFV Vapes.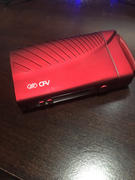 03/07/2020
Omri
Israel
Do yourself a favor and buy a different vape
Have been using the cfv as my main vape for a month or so. Great vapor and nice flavor but the buttery is so small that this vape is constantly connected to my computer.... Wish I have bought something else
03/07/2020
Planet of the Vapes
This is pretty typical of all full convection based vapes, Omri. The batteries just don't last as long as they can in more efficient conduction based vapes but the conduction based vapes can't provide the taste or the efficiency that a full convection based vape can provide. Pro's and con's to both. With best regards, Larry
03/03/2020
Gary G. Hogue
Canada
Jury Is still out
POTV replaced the first CFV as the battery would not last worth a darn. I have charged this one twice since I received it, and I am hoping it will last longer.
03/03/2020
Planet of the Vapes
We are hopping it lasts longer as well, Gary. If not, please let know. With best regards, Larry