Go to our US store
Free shipping anywhere in US
Buy in US dollars
Order ships from our warehouses in US - no delays at customs
Visit US Store
Boundless CF/CFX/CFV WPA (Water Pipe Adapter)
Free Shipping
Easy Returns
World Class Customer Service
Shop with the most trusted vaporizer store
The Boundless WPA will absolutely enhance the flavor of the vapor produced from the Boundless CFV ('old' version only!), CF, and CFX. Aside from enhancing texture and flavor, the glass adapter also helps alleviate irritation by cooling down the vapor and making it feel smooth on your throat. There are some Boundless vaporizers that emit harsher and hotter vapor. This water pipe adapter will upgrade those units and make vaporization more fun for you.
The Boundless CFV WPA is not exactly an essential appendage, but once you use this adapter with your glassware, you will notice that the WPA does make a difference.
CFV owners, please note: This WPA is not compatible with the newer version of the Boundless CFV (that was released in September 2018). Please contact us if you are not sure about the version you have.
Customer Reviews
Write a Review
Ask a Question
11/17/2020
Shawn D.
United States
Works as advertised
Used It on many different items and haven't had a problem yet... (except when u hit it too hard it will clog the screen) lol
08/02/2020
Bart V.
Luxembourg
Game changer
Don't try to grab it and clean, right after a water pipe session - you'll burn your fingerprints off LOL You'll be able to clear that bowl in one, 5-minute session with this, if desired. Vapor never gets hot, in my experience. ***Do NOT try to clean the wpa until it cools!***
08/04/2020
Planet of the Vapes
Great advice, Bart. Thanks..... Please stay safe out there. With best regards, Larry
04/22/2020
Jason S.
United States
Further Cloud observations
Well, anyway, the CF quickly found itself disabused of its mouthpiece assembly. It seems that the mouthpiece assembly was sticky hot, plastic yicky, and tasted yucky. Plus, part A from the mouthpiece seemed so easily detached with slight rumpled/tousled application usage, logistically speaking. Observationally, the token test subject user involved required little pure pocket portability of the CF. Somehow, the WPA found itself enamored with heat resistant medical grade silicone tube. Yet, although it offered whip like utility and ease it provided a degradation of mouth feel of the vapor. Next, the WPA and CF were found concomitantly with borosilicate glass tubing inside the silicone tubing. CF behavior, its vapor and token user experience all are improved now via a vapor route from ceramic oven to a steel WPA, and, to a 8 inch or so glass path. These findings are preliminary. Other observations and studies are underway. Further testing is required.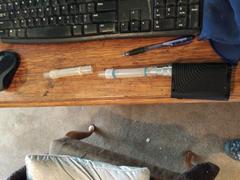 03/31/2020
james w.
United States
great
GREAT ADD ON, NEW TOO BOUNDLESS PRODUCTS VERY IMPRESSED WILL BE LOOKING AT CFX/ CFV
03/17/2020
Gabrielle D.
United States
Very good
Very good adapter high quality