Go to our US store
Free shipping anywhere in US
Buy in US dollars
Order ships from our warehouses in US - no delays at customs
Visit US Store
Boundless CF/CFX/CFV WPA (Water Pipe Adapter)
Free Shipping
Easy Returns
World Class Customer Service
Shop with the most trusted vaporizer store
The Boundless WPA will absolutely enhance the flavor of the vapor produced from the Boundless CFV ('old' version only!), CF, and CFX. Aside from enhancing texture and flavor, the glass adapter also helps alleviate irritation by cooling down the vapor and making it feel smooth on your throat. There are some Boundless vaporizers that emit harsher and hotter vapor. This water pipe adapter will upgrade those units and make vaporization more fun for you.
The Boundless CFV WPA is not exactly an essential appendage, but once you use this adapter with your glassware, you will notice that the WPA does make a difference.
CFV owners, please note: This WPA is not compatible with the newer version of the Boundless CFV (that was released in September 2018). Please contact us if you are not sure about the version you have.
Customer Reviews
Filter Reviews:
battery
Shipping
friends
care
POTV
complaints
flowermate swiftpro
water adapter
09/27/2019
James J.
United States
Perfect
No complaints, quick shipping
01/16/2019
Allison G.
United States
LOVE AS ALWAYS
bought my flowermate swiftpro from POTV and now bought my water adapter for it from POTV again as always I LOVE YOU GUYS I always refer friends to y'all Ps it's been about a year and my swift pro is acting up battery wise is there a way I can exchange and get a new one? Take care!!!!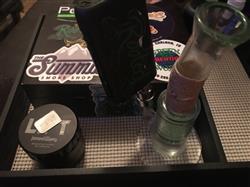 01/16/2019
Planet Of The Vapes
Hi Allison, Just created a service ticket on your SwiftPro so we can do a bit of troubleshooting with you. In answer to your question, yes we can exchange it for a new one. With best regards, Larry
10/31/2018
stephen n.
United States
Works
Works like it should! Love it with my cfx.
Great addition
Great airflow and great taste. Huge clouds A+ product by boundless.