Go to our US store
Free shipping anywhere in US
Buy in US dollars
Order ships from our warehouses in US - no delays at customs
Visit US Store
Ed's TNT Wood Stem for Arizer Solo, Solo 2
Free Shipping
Easy Returns
World Class Customer Service
Shop with the most trusted vaporizer store
Ed's TNT Wood Stem for Arizer Solo, Solo 2 is a beautiful upgrade that can last you a lifetime with consistent care. Aside from being fashionable, Ed's TNT Wood Stem for Arizer Solo, Solo 2 also boosts your vaporizer's performance. There are four holes in the stem, which deliver superior airflow and  lessens the resistance more than the stock glass stems do. Because of the larger chamber, you will be able to load more and reload less for on-the-go vaping sessions. The end of the mouthpiece is tapered so it can fit 14 mm water pipe attachments. Ed's TNT Wood Stem for Arizer Solo and Solo 2 comes with 3 O-rings and 3 screens.
Customer Reviews
Write a Review
Ask a Question
12/11/2020
Barb G.
Canada
Much better than the glass
Great. It's meant to break into two pieces for clean up, so grip from the metal and pull it out of the device after it's cooled down.
12/09/2020
James M.
New Zealand
Amazing Product and Customer Service
I absolutely love this stem, high quality, and better than the glass ones IMO. The first one I bought had a slight issue with the fit, but I contacted the customer service team who turned out to be amazing and friendly, they offered helpful suggestions to fix the issue and when that didn't work, send a replacement straight away without my asking. The replacement fits perfectly and there is no other issue with it. I can't recommend the product and customer service team here enough! This is the best and only shop you should be using for vape products.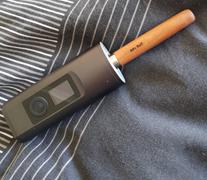 12/07/2020
JimHere
United States
Expensive
Don't buy this. First things first, doesn't fit right. Getting it in the vape is no big deal, but getting it out is almost impossible. To really share what went down, it got so jammed, I first tried to pull it out, but the wooden stem comes out of the metal piece (for cleaning purposes). Grabbing the metal piece by itself is tiny and it was so hot I burned myself. Hot or cold tho, I couldn't get it out. Took a set of pliers, but even then I had to wiggle it in such a way it ended up accidentally ripping off the hole cover to my Arizer 2. Horrible experience, waste of money, the product does not fit Arizer 2. Also, even when I used it, the chamber is so big it likely would require stirring, but I wasn't able to because of the fitment issue
12/09/2020
Planet of the Vapes
Oh, oh. That's not good Jim. We can either send you a replacement or we can offer you a full refund, you're choice. Hope everything is ok with your Solo. Reaching out to you now. Talk to you soon. Take care, Larry
11/22/2020
Jeff S.
United States
Art !! Way more than just a piece of wood
you can't go wrong with this bad boy! Well worth every penny...... Buy it and you will be glad you did
11/19/2020
James M.
New Zealand
Amazing product and Customer Service
I've purchased this stem before and absolutely loved it. Worked perfect and never had any issues until I lost it. I just bought a replacement and there was an issue with the fit, however, I contacted customer service and they were absolutely amazing with quick responses, practical advice on how I could fix the issue. Ultimately, I wasn't able to fix it, so the next day, without asking they mailed out a replacement. Can't recommend Planet of the Vapes and this product highly enough! A+
11/19/2020
Planet of the Vapes
Thank you for that review, James. Much appreciated.