Go to our US store
Free shipping anywhere in US
Buy in US dollars
Order ships from our warehouses in US - no delays at customs
Visit US Store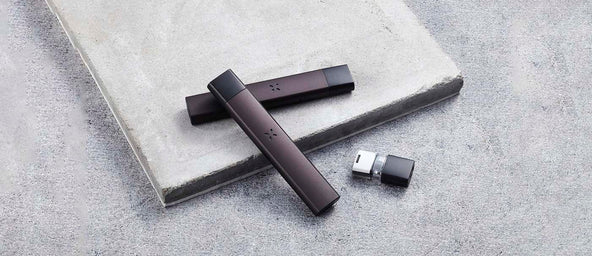 Pocketable concentrate pens
This is what you want for portable concentrate sessions in your pocket. Concentrate pens heat up immediately, deliver strong hits, and fit in any pocket or purse. They come in multiple shapes and styles, so take the time to find your perfect fit. For ease and sophistication, we recommend the Puffco Plus. The taste is great, the operation is simple, and the look is tight (check out the Vision). If you like something more industrial, the Boundless Terp Pen XL has a feel and punch that doesn't play around. People who like to tinker, or consider themselves a little on the nerdy side, will find comfort in all the options the Sai brings to the table.
Frequently Asked Questions
What is a vape pen?
Vape pens are the easiest way to take quick, potent concentrate hits anywhere, whether you're vaping oils or concentrates. They're called vape pens because you either attach a pre filled cartridge or load a single session in them for each hit, and typically take the shape of a pen or pencil.
What's the Difference Between a Dry Herb Vaporizer and a vape pen?
Dry herb vaporizers pull vapor from the herbs themselves, while vape pens require an extract, or concentrated form of the plant. Hits from a vape pen can be tastier, stronger, and cleaner than from dry herbs, but the hits can often be too strong. Think of them like espresso shots, deserving of your respect!
How do vape pens work?
Vape pens are pretty simple. They heat your concentrates until they vaporize, while you inhale them through a mouthpiece. The heater can be a plate, cup, or metal wire, that you load each time you want a session.
How to use a vape pen?
Load your concentrate into the heater, attach the mouthpiece, press the power button and inhale. Most wax pens heat up very fast, almost immediately. Oils pens, like the PAX Era Pro or CCELL Palm, need only the prefilled cartridge attached, before you're ready to go.
How much wax to put in a wax pen?
Start with a small amount of concentrate, about the size of a grain of rice or a BB. You can always load more if you want, but if you load too much you'll probably end up with a mess.
How much does a vape pen cost?
Expect to pay between $30 and $120 for a good wax vaporizer. Very few wax pens under $70 are any good, so be sure to check out the pens we tested. As you pay more, you should see improvements in taste, battery life, and aesthetics.
What is the best wax pen?
For superior taste and ease of use, we like the Puffco Plus - it's been a market leader for years. If you want something more robust, but techy, check out the Sai. It's a vapor nerd's dream with countless options. To try something a little different, take a look at the Terp Pen XL.
How to clean a wax pen?
Wax pens don't have a lot of parts, so cleaning is pretty easy. They usually consist of a battery, heater, and mouthpiece. The battery won't need more than an exterior wipedown, but the mouthpiece and heater can usually be soaked in rubbing alcohol to remove the oils. Just be sure to check your pen's specifications, and don't soak any parts that could degrade in alcohol, like silicone. Let everything dry completely before firing up, or you could cause an electrical short and break the heater.