Go to our US store
Free shipping anywhere in US
Buy in US dollars
Order ships from our warehouses in US - no delays at customs
Visit US Store
Shop with the most trusted vaporizer store
Water filtering your vapor for the ONE is easier than ever, with the Planet of the Vapes ONE Mini Bubbler for the Accessory Attachment. Simply replace the glass mouthpiece with this bubbler, even during a session, for one of the smallest portable water-filtered vaporizers you can find for dry herbs. It's easy to take with you, thanks to its spill resistant design.
Vapor enthusiasts have enjoyed water-conditioned vapor for years, cooling the vapor while also pulling out any bits of herbs that managed to sneak into the vapor. This bubbler cools better than the dry mouthpieces for the Accessory Attachment, but is still small enough to travel.
Customer Reviews
Write a Review
Ask a Question
Filter Reviews:
lungs
bubbler
game changer
bitch
draws
water pipe adapter
Flavor
Boundless
02/14/2020
Paul G.
United States
Great bubbler
This works very well to cool down the vapor. To get all the water out I blow it out then as I'm blowing I tilt it to the sky then to the ground and that gets out almost all the water. I tend to use it without water though as it fits a good job by itself.
02/11/2020
Paul G.
United States
Works great
This little bubbler works pretty nice. Cools the vapor nicely. After learning how much water it should take it was nice to use although i produce alot of saliva so having to hold my head looking downwards made my spit go into the top part. I know that's my problem though. A good way to get all the water out is to blow into the mouthpiece aim it down then after you blow most of the water out keep blowing and invert it so as you blow you tilt your head towards the sky and then aim it back to the ground and it blows out all the water.
10/11/2019
Khronic P.
Canada
WOW
All I have to say is wow. Vaping with this vape right here is a game-changer as if I haven't been vaping right in a minute, being able to take nice cooled draws on this and not having my lungs get scorched, dried, and become inflamed. Flavor is much more crisp if i can recall Using it with my portable Boundless CF and the water pipe adapter.
09/13/2019
Pedro N.
United States
Great Mini Bubbler, tough decision
This is a perfect bubbler to take cool clean hits with. But if your trying to decide between this design and the other with the curved tip I would definitely suggest the curved tip. The curve stops more water and also allows you to take a hit at a better angle (sounds silly but trust me). I had the curved tip and accidentally broke it :( decided to try this style. But not to say that this piece doesn't have its perks, without the curved tip it makes it much easier to clean. Also this company was very helpful in fixing a shipping issue that was totally my fault... Thanks for the sticker!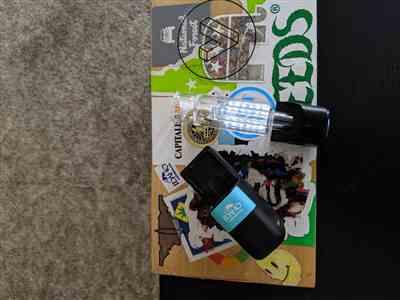 Great bubbler
This is a great bubbler! But... If your trying to decide between this bubbler and the curved tip then I'll be honest the curved is better. the curved had it's advantages like the angle your able to take a hit, as well as the fact that the curve can stop some water from getting in your mouth. I recently broke my curved and decided to try this style. But it works out great because I like to keep it clean and not having the curved tip makes it very easy. I'd also like to mention I had an issue, caused by me, with the delivery details and customer service was very helpful with fixing my order. Thanks for the sticker!