Go to our US store
Free shipping anywhere in US
Buy in US dollars
Order ships from our warehouses in US - no delays at customs
Visit US Store
XMAX Starry Screen Set
Free Shipping
Easy Returns
World Class Customer Service
Shop with the most trusted vaporizer store
The XMAX Starry Screen Set includes all three different types of screens for your latest Starry mouthpiece. Older versions only had one removable screen down in the oven. Newer versions have one removable screen in the oven, and two screens in the mouthpiece. To see which version you have, look at the bottom of the mouthpiece lid. Older versions have a black ceramic screen, while newer versions have a metal screen. Whether you need backup screens for quick cleanings or urgent replacements, this set has got you covered.

Check out the rest of XMAX Vaporizers and Accessories.
Customer Reviews
Write a Review
Ask a Question
07/24/2020
Glen S.
Canada
Simply amazing
Works like a charm.. very helpful staff Quick to respond... would buy again
07/03/2020
Dan M.
United States
Ease of ordering. Speed of delivery.
I was pleased with how effortless the on-line ordering process was and the speed of receiving the merchandise. Thank you.
H
07/03/2020
Head
United States
Using extra screens for other purposes..
Took out the silicon seal completely, I just fill bowl and put the extra chamber screen on to of my herd. Press, then smoke. I used a sewing needle to pull out the screen. The air flow is way much better. STRONG hits. And I have way less cleaning too do. I set the temp much lower, between 370-420, so I won't burn my lips on the metal mouth piece. So far so good.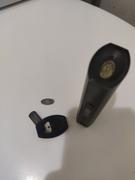 07/02/2020
Larry P.
United States
Small screens
It did the trick. Thank you
07/02/2020
Mark c.
United States
Xmax Starry
Love everything about this vape. It's awesome . It's close to a year old and still going strong. Don't know how long they last but if it does decide to stop working I'll order a new one fast and in a hurry.