Because we test and enjoy our products before we recommend them, we couldn't wait to give the Arizer Air to our new writer, Jill Di Donato. After a month with the Air, Jill put together her thoughts in this Arizer Air review. Jill is an advanced vaporist and has tried several vaporizers on the market along a variety of price points.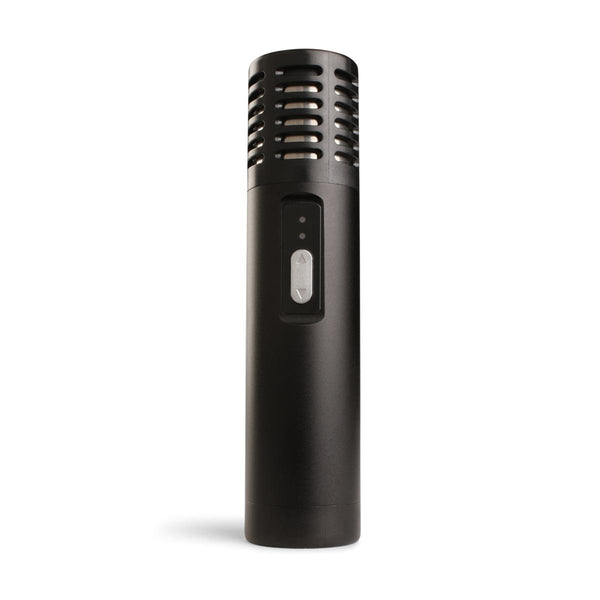 $99.95 Regular price: $194.99
SHOP NOW
Free Shipping
Easy Returns
World Class Customer Service
---
Share Your Thoughts And Questions In The Comments
---
Arizer Air review
The Arizer Air falls in the middle of portable vape pricing at CAD$144.99. Made in Canada, this vaporizer is built with a hybrid, ceramic convection and conduction heating system; the same heating path as the tried and true Arizer Solo. In fact, the Air is exactly the same as the Solo, with the exception of a replaceable battery and its smaller, more compact size, which fits discreetly in your hand, pocket, or purse. The interchangeable 2150mAh battery lets you charge a back-up at home and take it with you on the road. When you bring along the Air's charger, you're never more than an hour's wait from enjoying a session. The interchangeable battery is probably my favorite feature about the Air, making it ideal for day trips and long nights.
Table of Contents

Who is this for
If you like vaping outside on a hike, during a day at the beach, or while out all night, but don't want to give up flavor and efficiency, you will appreciate the discreet, durable portability the Arizer Air. It's got nearly the horsepower of an "at-home" vaporizer combined with a reasonable level of transportability.
Although the Air's battery life is only about an hour, which isn't great, the interchangeable lithium battery lets you easily pack a back-up and swap out.
Bringing along an extra, charged battery and a couple pre-packed stems in the including soft caring case is the way to go in my opinion.
Look & feel
The easy-to-grip, lightweight ergonomic design feels solid in your hand, and the included silicone skin ( also available in an array of colors) keeps the Air cool during longer sessions (otherwise, the vents at the top of the Air can get hot to the touch). Cylindrical and sleek, the Arizer Air measures 122mm in height and 29mm in diameter—pocket or purse sized. The pre-pack-able stems help make the Air easier to use on the road. Swap out for a fresh session without slowing down. The shorter stem is more covert, easier to travel with, but, because it's short, it tends to get hot. Just something to be mindful of. Likewise, the longer stem helps cool the vapor a bit better.
Concentrates
The Air works fairly well with concentrates, but you need to use something like organic cotton as a wick or some flowers to make a "concentrate sandwich" in order to prevent dripping into the heating chamber, which you obviously don't want. Be sure whatever materials you use, you don't block the heating vents. If concentrates are your main thing, I would keep looking. This is a flower oriented vape that CAN do concentrates.
Who isn't this for
If you're averse to glass stems (read drop stuff alot) than the Arizer Air isn't for you, as both of the mouthpieces the Air comes with (a long and short stem) are made of glass. Packing on the road can be a bit of an ordeal, but if you bring along a few pre-packed stems, you don't have to deal with this. If you're used to vape pens, you'll notice that the Air hits a lot harder, even though it's almost as portable. Just know what you're getting into with the Air!
Ease of use
You don't need any special technique to get great results and there is no chance of vaping wrong with the Air. The single button control is straight ahead if you have any multi-temperature vaporizer experience. If not, someone unfamiliar can use it easily the first time going off the instructions.
---
Because you load your material in the stem, not the vape body, you invert the vape when loading. 
---
In the box
The Air comes in black, titanium or silver. I'm partial to the black. In the box you get a nice little grab of accessories including the the 2150mAh battery, charger, 2 glass stems (one short one longer), a fairly pointless glass "aroma dish", nylon/velcro caring case (kind of like you might get with a small flashlight), a silicon skin and a stainless stirring/concentrate tool.
Setup & storage
Setup is simple. The design is compact, so there aren't that many parts, aside from the usual. One run through with the instructions will get you acquainted with the interchangeable battery, glass stemware and single button function. As for storage, the Air can easily sit atop a desktop. I like to keep it in its carry case though, to keep it from getting knocked over. Even though this vaporizer is sturdy and well-made, carrying cases are made for a reason. I also like to detach the glass mouthpieces after every use. I'm just safe that way.
Battery & power
With a full charged battery, expect 5 to 6 sessions with the Arizer Air. That translates into roughly an hour of battery life. Because of the Air's replaceable battery, you can easily swap it out which helps extend your sessions. This is ideal for someone like me who's always traveling, and in need a portable vape but have "high-end sensibilities." I'm not sacrificing aesthetics and quality in the products I travel with; in fact, when I'm on the road, these little touches make my trip more enjoyable.
Unlike some vapes, the Air uses Arizer's own charger so you can't just swap in any worldwide USB cable. However, this hasn't been an issue for me. The charging cable has a USB male end so you can charge this from any USB port, like a phone charger or computer, as long as you carry the Air's power cable with you. You can also charge while using the vape.  If you plan on swapping out batteries often, there is an additional wall charger available for purchase.
Oh, and don't worry about forgetting to turn off your Arizer Air. One of the cool functions of this vape is that it automatically turns off after ten minutes of use.
Heating
The Air has 5 preset temperatures from 356°F - 410°F. It will take 1 to 2 minutes to heat up, and once the blinking blue LED light turns solid, it's ready. I personally run most of my sessions at the lowest temp as I like the flavor.
---
Once you turn the Air on, each click of the single button controller will cycle through the the options, with a color associated with each temp.
---
Vapor quality
The combination convection and conduction heating is noticeable in the impressive vapor quality. There is some draw resistance. If you pull too fast it feels like you're trying to pull a thick milkshake through a straw.
---
The first three draws give the most robust flavor of the flower.
---
You'll definitely be able to distinguish between the aroma profiles of your favorite blends. Taste is such a pleasure point when it comes to vaping with the Air, which really allows you to enjoy the aroma of your materials. Vapor is smooth, strong, and seems to intensify at around the third draw. The vapor can be on the warm side when using the shorter stem.
Capacity
Ideally, the stems are built to hold .25/gram of material, though it will work with pretty much any amount you put in. Whether it's a solo or a group session, whether you like to fill your stem to the brim, or barely at all, the flavor and vapors produced always justify your choice.
Warranty
Arizer includes a lifetime warranty on the heating element and a two-year warranty on almost everything else in the Air.  The one exception as always is the battery.  We also have the Planet of the Vapes 100% Satisfaction guarantee backing this one.
Cleaning & maintenance
Like with any vaporizer, it's recommended that you brush out the Air after each use. Additionally, maintain your glassware by cleaning regularly. It's fine to miss one or two times, but cleaning your device routinely extends its life and the Air is no exception. Compared to the maintenance of other nicer vaporizers, the cleaning and maintenance of the Air is on par.