In 2014, the Mighty dry herb vaporizer set the standard for portable vapes with its ease of use and stellar vapor, but is it still the benchmark? Surely someone has come along with something better or just as good but less expensive, right? Maybe not. As it turns out, when you knock it out of the park on your first swing, it takes the world a while to catch up. Now that Storz & Bickel has released the Mighty+, is the Mighty worth your time?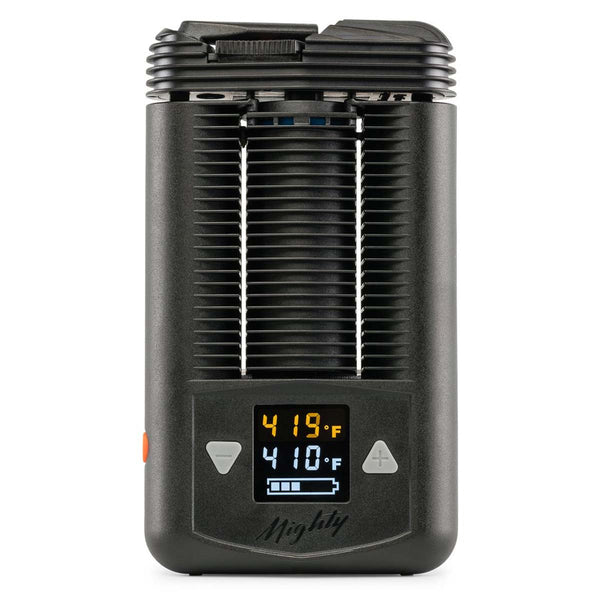 $344.25 Regular price: $459.00
What sets the Mighty apart is consistency. It always delivers:
Thick, tasty vapor
Full extraction with little waste
Easy and simple use
Good times!
Use code S&B20 for 20% off!
SHOP NOW
Free Shipping
Easy Returns
World Class Customer Service
Table of contents
Mighty vaporizer review: the Gold Standard
Any time a good portable vaporizer releases, someone asks "Is this the Mighty killer?" with good reason. The Mighty aced every important talking point for a vaporizer, and most Mighty owners feel they don't need to check in again until something better comes along. You may be satisfied with another portable vape for a little bit, but eventually your eyes will wander and long for what the Mighty provides.
When it comes to vapor quality, the Mighty is still the vape to beat. The Mighty+ has a quiver of updated features to fawn over, but the vapor is still the same. You now have two options for excellence!
Consistency is king
I usually lead a review with a report on the vapor quality and flavor. That's coming. But I want to stress something unique about the Mighty - what truly sets it apart. Yes, it has great taste and efficiency and is easy to use. But what's truly special about the Mighty is its consistency. It's not just stellar, it's always stellar. When you get a Mighty, you never have to look back.
Satisfying vapor
Sessions with the Mighty are just the way I like it - tasty and dense from the very first hit. The Mighty can take longer than other vapes to heat up, but the first hits are more satisfying than from other vapes that race to heat up without giving the entire system a chance to balance. The Mighty's cooling unit is small but effective. It softens the hot air before reaching the mouthpiece, for a comfortable yet effective hit, and its low draw resistance caters to both light sippers and heavy hitters.
Another thing I like about Mighty vapor is the stopping point. Some vapes keep producing visible vapor long after it's effective, and I question the potency of the later hits. But the Mighty quickly extracts and then stops producing vapor. It takes fewer hits to finish off a bowl, even at lower temperatures. Somehow, Storz & Bickel (S&B) vaporizers seem to extract quicker and more completely than other vapes.
Amazingly efficient
There's a reason for all that efficiency - testing. During development, S&B tested the Mighty's vapor output to see what was there, in what quantities, and how pure it was. I'm not aware of any other vaporizer manufacturers that put in that kind of time and diligence in their designs, and it paid off.
I believe S&B has landed on a special mix of convection and conduction heating, or hybrid heating, that fully extracts as quickly as possible, from anything you put in the heating chamber. Other hybrid vaporizers can lean more towards conduction or convection heating, and they don't quite pull it off. Meanwhile, the Mighty does it right every single time.
So easy to use
Using the Mighty is easy and intuitive. All the temperature controls and information are on the front panel, with the option to switch from fahrenheit to celsius. The orange power button on the side turns it on and off, while the front triangle buttons toggle through its wide temperature range. The display is simple - actual temperature on top, set temperature below, and the battery meter at the bottom. The Mighty doesn't use a traditional auto shut-off timer. Instead, it tracks your use and turns off after two minutes of inactivity. There's very little to think about here. You can have a complete session with no more than one button press.
The Mighty is as easy to load as it is to use. It doesn't matter if you use a coarse grind, fine grind, or no grind at all - the Mighty will vaporize your herbs fully, extracting everything. I'll talk more about the Mighty accessories a little later, but the dosing capsules must be mentioned here. They're the perfect pre-pack option for easy quick-loads on-the-go, and they're inexpensive!
Long-lasting battery life
The Mighty utilizes two lithium-ion batteries. It's hard to say how many bowls the Mighty can cook through on a single charge because it doesn't have a session timer, but 90 minutes of runtime is typical. Those who make quick work of their bowls can get around 12 per charge, while vaporists like myself who drag things out may end up with eight. No matter the style, that's enough to get through just about anyone's evening, and then some.
With consistent, heavy use, I found myself charging the Mighty every two days. Casual users could go for weeks without a recharge. The Mighty takes about two hours to fully charge from dead, and has passthrough charging. If you need to vape quickly and the battery is dead, you can use it while plugged in after just a few minutes of charging.
The main downside to the Mighty's battery life is the required charger. Most of today's vaporizers charge via some form of USB cable, and are easy to charge anywhere. It's not the Mighty's fault, but I have misplaced the barrel-port charger a few times, and the Mighty was out of commission until I found it.
Medical build with an industrial feel
The Mighty looks more like a power tool than a medical device, dressed in cooling fins and a Black & Decker color scheme (black and orange). The look fits its style, however, combining industrial strength and portability with medical performance. It's tough - I regularly throw it in a backpack without a protective case.
The Mighty isn't medically certified, but it benefits from all the testing and design that went into S&B's medically certified dry herb vaporizer, the Mighty Medic, which is only available through medical channels in a handful of countries. The retail version is made to the same specifications in the same factory. There are only a couple differences between the units, none of which affect performance.
The bottom line is, if you prize medical certifications and exhaustive testing, the Mighty is just about the only choice. There aren't more than two other vaporizers I know of that have undergone this level of scrutiny.
Herb or concentrate sessions
When it comes to vaporizing dry herbs, the Mighty is at the top of the class. S&B invented the hybrid heating system, and nailed it out of the gate. The first hit is mostly convection and filled with taste, while the clouds build throughout the session. It fully extracts everything from your herbs, everytime, with zero fuss. Others have imitated, but no one seems to come close.
The Mighty was built for dry herbs, but the stainless steel mesh pad for concentrates (not included) works really well. It's not for those lung-busting style hits you see people take with hot nails and e-rigs. This is for a relaxed session that's gentle, but effective. Take the same concentrate you'd use for a session, and load it onto the mesh pad. As the Mighty heats, the extract melts into the pad and vaporizes over the course of several minutes.
Slow heat up time
Heat up time can take anywhere from one to two minutes, depending on the battery level and what temperature setting your Mighty is set to. That's a little slow by today's standards - most vapes take around 30 seconds. But, when the Mighty is ready, the vapor flows. Those quicker vapes need a hit or two to catch up. If the heat up time kills the deal for you, check out the quicker Mighty+.
Another thing I like about the Mighty is the temperature display. It is accurate and displays a live temperature. Other vapes might only show you the set temperature, and vibrate when they get there. After that, you don't know what they're doing, as they only display the set temp the whole time. The Mighty temp display fluctuates over a 15° F degree window as it adjusts to keep the temperature stable. All vapes do this behind the scenes, but the Mighty isn't afraid to show you the results.
Fantastic accessories
The accessories for the Mighty, both included and sold separately, form a complete package. Other than the herbs, the Mighty comes with all you need to vape - the herb mill, filling aid, dosing capsule, cleaning brush, extract pad, and extra parts. When you're ready for more, move up to the dosing capsule caddy that holds four capsules, or the magazine that holds eight. For serious users, there's even a 40 dosing capsule set with a grinder, scale, and loading tray.
We also have some crucial accessories made by third parties. There are different types of water pipe adapters (silicon or glass, also compatible with the Crafty+), and stands to keep the Mighty upright when loading. If you swing for a Mighty, definitely get the stand. Mine never comes off.
Time tested
Here's where the Mighty wins all comparisons. No other portable vape has such a longstanding reputation for excellence. I can only think of a handful of vaporizers that can compete with the Mighty's high-quality vapor, but they're all either extremely hard to get, or very new to the market. Meanwhile, the Mighty has done it right for years. Simply put, there's not a better vape to choose if you want to get the best and get on with your life.
A couple gripes
No vape is perfect, and I'm sure you will find something you would change about the Mighty after a bit of use. My list starts with the curved bottom. I don't understand why it was done when the Crafty+ vaporizer has a flat bottom. It's harder to load and sends us searching for a stand. Luckily, stands are pretty cheap.
I've already mentioned my other gripes: the Mighty is a little slow to heat up compared to others, and it only charges via it's barrel-port charger. A faster heat up time and USB charger would be welcome. Luckily, Storz & Bickel addressed all these issues with the Mighty+.  
Is the Mighty vaporizer worth it?
Most definitely. It's consistent, excellent, and easy to use. That's not just our opinion. Whether we poll industry insiders, our customers, or the vape community at large, the Mighty vaporizer is overwhelmingly popular, and might be the safest choice to make when choosing a vaporizer.
Mighty Pros & Cons
Pros 👍

Cons 👎

Amazing vapor

Easy to use and share

Consistency

Efficient

Long battery life

Medical quality build

Time tested / excellent customer reviews

Slow heat up time

Needs a stand

Non-universal charge port

Expensive

Bottom line

We finally got the Mighty+, and you don't go from the top dog on the block to a has-been just because of an updated version. The Mighty is still a fantastic vaporizer, and now at a better price. You might miss out on some new features with the Mighty, but you'll get all the vapor!
Should I get the Mighty or Mighty+?
In the fall of 2021, we finally got the successor to the Mighty, the long awaited Mighty+ vaporizer. The vapor is indistinguishable, so the choice is about features and price. If you're on a tighter budget, or need the added accessories that come with the Mighty (dosing capsule, plastic grinder and loading funnel), go with the original version. But if you want the latest gear with the newest features, grab the Mighty+. If you're still unsure, get the full scoop with our Mighty vs Mighty+ blog post.
Warranty
Storz & Bickel covers any workmanship and defect issues for two years. Like all of our products, the Mighty is covered by our 100% Satisfaction Guarantee.
What's in the box
Mighty Vaporizer (latest version)
Power Adapter
Spare Screens
Cleaning Brush
Storz & Bickel Herb Grinder
Filling Aid
Set of Spare Seal Rings
1 Dosing Capsule
Instructions
For best results
You can read our full Tips and Tricks Guide at your leisure. The main thing I want to encourage you to do is explore. The Mighty is consistently excellent no matter how you use it, so play and find your sweet spot. Use different temperatures and grinds, even whole flowers, and give the included accessories a go. The dosing capsule and extract pad are fantastic!
Easy maintenance
Check out our Cleaning and Maintenance Guide to keep things running like new. The most important thing you can do is empty out the bowl after it's spent. Too often I set it down and forget, only to later find the herbs stuck in place. It also gets the screens dirty a lot quicker. When you're done, just empty out the bowl and sweep it clean with the brush.
Who is the Mighty for?
The Mighty is for anyone who googles "What's the best portable vaporizer?" There isn't one "best vaporizer" for everyone, but the Mighty is the best for most. If you just want to buy one vape and get on with life, this is the safest bet. It's one of the most expensive vapes we sell, but given it's long track record of excellence, it's deserving of the spot.
Who is the Mighty not for?
At $349, the Mighty can't be called budget friendly, and some very good desktop vaporizers can be had for less than half that. It also doesn't represent the latest in vape tech. Released in 2014, the Mighty won't appeal to those that like to live on the cutting edge now that the Mighty+ is out.
It may not be for you if you're in the market for a pocket friendly option. It's better to think of it more as a convenient, cordless way to vaporize at home, compared to a full desktop vaporizer like the Volcano. It's about twice the size of the Crafty+ vaporizer, and even bigger than a PAX 3.
Conclusion
Amazingly, the Mighty has ruled the roost since its release. It's truly a special vaporizer that many will have great memories of. I consider it the gold standard for portable vapes. Eventually someone will make a better vaporizer, but they'll have to wait years to earn the trust and reputation of the Mighty. Buy the Mighty with confidence. Even with the new Mighty+ on the market, the Mighty is a solid buy at its lower price.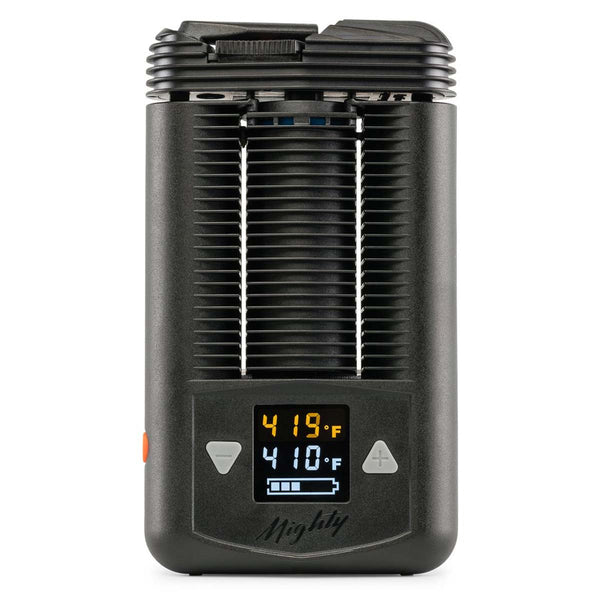 $344.25 Regular price: $459.00
What sets the Mighty apart is consistency. It always delivers:
Thick, tasty vapor
Full extraction with little waste
Easy and simple use
Good times!
Use code S&B20 for 20% off!
SHOP NOW
Free Shipping
Easy Returns
World Class Customer Service