Table of contents
Mighty vs Solo vaporizer: Mighty for the heavies, Solo 2 for the easy goers
Today, we're comparing two of the most popular vaporizers we carry - the Mighty and the Solo 2. They're beefy portable options with long lasting batteries, simple controls, and easy maintenance. The Mighty sits at $349, while the Solo 2 is only $164.99. So which one is for you? To put it plainly, if you're a light to moderate user, or on a budget, choose the Solo 2. If you're a heavy user, or want quicker, fuller sessions, pick the Mighty.
Different vapes for different needs
Here at Planet of the Vapes, there is no best vaporizer. There's only the best for each individual or specific situation. All of our vapes are tried and true, but that doesn't mean they all fit your style. Today, we'll show you why both of these vaporizers are stellar options, and why either one could be the best choice for you. Let's dive in.
Solo 2 strengths
The Solo 2 has been kicking it hard since its introduction in 2017, gaining praise all along the way. It's easy to use, has a fast heat up time, and tastes great. Built with quality materials, there are no plastics, and requires little maintenance. With a three hour battery life, precise temperature control, and a variety of on-board customizations, the Solo 2 is a solid option.
$154.99 Regular price: $169.99
The Solo 2 is Arizer's most popular portable vaporizer.
Fantastic taste
Quick heat up time
Long battery life
Easy clean up
Customizable features
SHOP NOW
Free Shipping
Easy Returns
World Class Customer Service
Solo 2 weaknesses
It's not perfect, though. The Solo 2 is a portable vape, but it's fat and heavy and won't fit in your pocket. The glass stems are great, but they don't travel well, are easy to break, and can draw unwanted attention. The controls can be a bit cumbersome at first, especially when you want to get started right out of the box. Be prepared to open the manual on more than one occasion.
Solo 2 for relaxing sessions
Each bowl with the Solo 2 is a real experience. Its gradual extraction and restrictive draw require a more patient approach for a much slower, more grounded session. It's fast to heat up, but benefits from a solid heat soak. Potent vapor comes with the right pack, draw speed, and a bit of finagling with the glass stem. The small bowl and restrictive draw may be a turn off for some, so if you're looking for quick results, the Mighty is the way to go.
What our Customers say about the Solo 2
"This is right up there with my Mighty."

The Solo 2 is a steal at under $200, and our customers agree!
Mighty strengths
The Mighty vaporizer has been around since 2015 and is considered the best by many. We don't take that stance, but there's so much to love about it. It's extremely user-friendly, consistent, and has great battery life. The precise temperature control and easy-to-read display don't require a separate smartphone app. If you like to travel, the dosing capsules are fantastic for on-the-go sessions.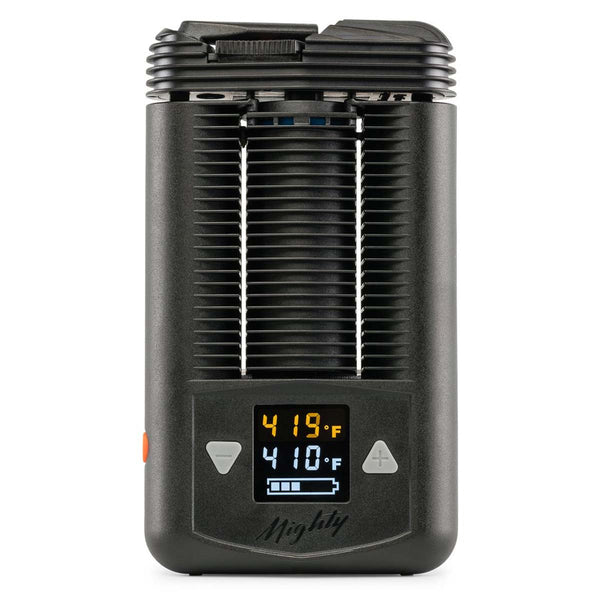 $344.25 Regular price: $459.00
What sets the Mighty apart is consistency. It always delivers:
Thick, tasty vapor
Full extraction with little waste
Easy and simple use
Good times!
Use code S&B20 for 20% off!
SHOP NOW
Free Shipping
Easy Returns
World Class Customer Service
Mighty weaknesses
With a premium price tag, you'd expect premium build quality, but the Mighty is built out of plastic. Durable, but plastic. The heat-dissipating fans cool the vape well, but it doesn't feel strong enough to take a rough bump or fall. The heat up time is slow compared to the Solo 2, but worst of all, it won't stand up by itself. We offer a third-party Mighty stand for this reason, but again, at $349, this shouldn't be an issue.
Mighty for serious appetites
Sessions with the Mighty are easy and potent. Its large bowl is easy to load, and works well with a variety of different loads and packs. Heat up time is slower than the Solo 2, but once it reaches temperature, it's ready to fire. Hits are ready to go from the first pull, and its low draw resistance can cater to small sips or huge rips. It's great for vaping around the house, while walking your dog, or passing around with your friends.
What our customers say about the Mighty
"If I lost my Mighty or it quit working, I would have to buy another."

Many of our customers have declared the Mighty the best portable vaporizer on the market.
The last draw
Again, no vape is perfect. Some are better at this, while some are better at that, but the point here is, the Mighty and Solo 2 are both fantastic options. They taste great, are simple and easy to use, and produce potent vapor. At the end of the day, if you like slow sessions, or smaller bowls, the Solo 2 will satisfy and save you some money. If you like faster, fuller sessions from a bigger bowl, the Mighty is the one to get.

Hopefully we helped you land on a clear winner for yourself. If you think we missed anything or just want to chime in, hit us up in the comments!