Volcano vaporizer vs Extreme Q vaporizer: Introduction
Today we're comparing our three most popular desktop vaporizers to show why the Volcano Hybrid is the most potent, the Extreme Q represents the best value, while the Volcano Classic remains the bedrock of the industry. We gathered information from our customer service team, customer reviews from our site, and from you guys in the community to create a well-rounded review that isn't dependent on just one opinion. When we're all done, you'll know which one suits you best and why.
Volcano Classic vaporizer
The Volcano Classic has been around for over 21 years, and still stands as one of the best vaporizers on the market. It's reliable, consistent, and produces fantastic results. With nearly 250 reviews, 93% being 5-Star reviews, our customers agree as well. When we asked the community on Instagram which one they would take, the Volcano got 65% of the vote. Let's dive into it and see why the Volcano Classic continues to withstand the test of time.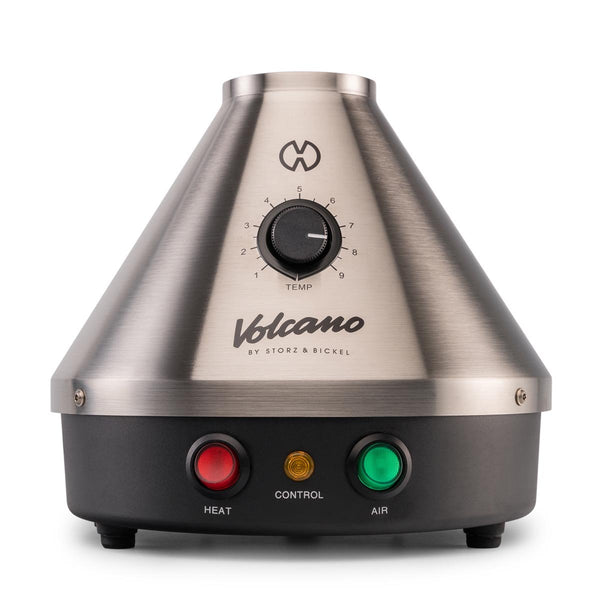 $639.00
The Volcano Classic vaporizer is exactly that - a classic.
Fantastic vapor
Easy to use and share
Consistent
Efficient
Amazing track record
Use code S&B20 for 20% off!
SHOP NOW
Free Shipping
Easy Returns
World Class Customer Service
How to use the Volcano Classic
What's it like to live with a Volcano? Here we show you how to load the bowl, blow up a bag, and get busy. It has a huge bowl, but also caters to smaller doses.
Volcano Classic: What sets it apart?
Like we just mentioned, the Volcano Classic is consistent, produces incredibly potent vapor, and is built to last for years on end. With one button for the heater, one for the fan, and a temperature control knob, it's very simple to use, and deep cleanings are rarely necessary. While the Volcano Classic is effective against massive tolerances, it also caters to microdosers and light hitters. Just throw a dosing capsule in and you're set. There are a lot of great things to say about this vaporizer, but it's not perfect...
What's not to like about the Volcano?
For $16 more, you could buy three Extreme Qs for the price of a Volcano Classic. It's not cheap. Many of our users grab this vape for medicinal needs and its long heat up time can feel like an eternity when you need relief. That's a big one. If you're a heavy concentrate user, you'll want to look elsewhere. It takes a lot of material to be effective and the hits are wispy at best. And with its temperature control knob, it's difficult to dial in an exact temperature.
Volcano Hybrid vaporizer: What sets it apart?
On top of the new features and updated heater, the Volcano Hybrid heats up nearly three times as fast as the Classic, with hits ready to go in under two minutes. Not a fan of balloons? The Hybrid introduced its own whip that swivels for direct hits that you can easily share with your friends. And for those that love to showcase their vaporizers, the Hybrid comes with a removable power cord for easy storage.
$929.00
This is how you improve on a 20 year classic!
Blow bags or use the whip
Quick heat up
Medical grade construction
Smartphone app to customize
Programmable features
Digital temperature control
Use code S&B20 for 20% off!
SHOP NOW
Free Shipping
Easy Returns
World Class Customer Service
How is the Hybrid different from the Classic?
The Volcano Hybrid takes everything we love about the Classic, ramps up the vapor production, and adds a variety of killer features. Set your temperature, session timer, or dive into the Workflows and Iterations to really dial in your perfect session, all within the bluetooth app. The Hybrid heater adds conduction to the mix for fuller extractions and punchier hits. And, it still works with dosing capsules!
What's not to like about the Hybrid?
The Hybrid shares a lot of the same downsides as the Classic. It's an expensive purchase. At $699, you could buy four Extreme Qs with enough left over to grab an accessory or two. Heavy concentrate usage still falls short with disappointingly wispy hits. It works, but it's inefficient. Many find the fan to be too loud and indiscreet, and the bright display screen has no obvious "off" switch. These aren't dealbreakers, but things worth considering when spending this kind of money.
The Arizer Extreme Q vaporizer - Best bang for your buck
The Arizer Extreme Q is another desktop veteran worth considering. Customer reviews place the Extreme Q in between each Volcano with 86% of its buyers giving it a 5-Star rating. At only $165, It's easy to say that it's one of the best bangs for your buck in the vape industry.
$179.99 Regular price: $299.99
The Arizer Extreme Q vaporizer continues to be the king of value.
Best vaporizer value
Whip and bag delivery
Tons of options and customizations
Remote control and stylish lights
Digital temperature control
Unlimited desktop power
SHOP NOW
Free Shipping
Easy Returns
World Class Customer Service
The Extreme Q: What sets it apart?
We can't emphasize this enough, but the Extreme Q only costs a fraction of the Classic and Hybrid. For only $165, you get a reliable vaporizer that has both whip and balloon options, and a variety of useful accessories, like a remote to control the temperature and fan speed. The Extreme Q is extremely efficient and can fully extract anything you throw at it. It has a bit of a learning curve, but the hits are fat, potent, and full of flavor.
How to use the Extreme Q Vaporizer
The Extreme Q is a jack-of-all-trades with both whip and balloon options, but takes a bit of finesse to master. When you're ready to pack, it's best to fill it about a third of the way to the top. About halfway is the most you should do, and up to the black coating is too much. Give it a soft tamp to set it into place and eliminate any air pockets.
What's not to like about the Extreme Q?
We mentioned the slow heat up time with the Volcano Classic, and the Extreme Q sits in the same boat. A fully heat soaked oven can take 10, sometimes 20 minutes. With the number of accessories it comes with, and its slight learning curve, it's not a plug-and-play vaporizer. You'll open it up to find an overwhelming number of glass pieces, all of which are useful, but their purpose isn't clear from the get-go. Even though the Extreme Q comes with a clear temperature display, the displayed temperature is way off, and combusting is in play at the highest settings. We'd say it's off by 50F°, which is a lot!
Conclusion
There is no best vaporizer, just the best one for a particular time, place and person. We carry all these vapes because each is excellent and hits different needs. Not everyone has $700 to spend on a vape, and not everyone wants to hit a bag. Hopefully we helped you figure out which one is best for you.