Flowermate vaporizers are among our best selling portables, and it's easy to see why. They're simple to use, well made, stylish, and most importantly, affordable. But with eight Flowermate vaporizers in our catalog and variety of great Flowermate accessories, figuring out which model is for you can be a little confusing. With that in mind, we've created this guide to help you land on your best match.
The best choice for most: Flowermate V5.0S
The Flowermate V5.0S vaporizer is our best selling portable for good reason. The three temperatures are all you need, it has crazy battery life, is pocketable, and most importantly it's a great value at just CAD$109.99.
A slightly smaller option: Flowermate Mini Pro
We prefer the Flowermate Mini Pro because of its small size, styling and the battery life indicator. The fully adjustable temperature range opens up the low end for flavor chasers, and higher temperatures for concentrates. It also comes with a Water Adapter and doubles as a power bank! Not a bad deal at CAD$119.99.
Pocket friendly on a budget: Flowermate V5.0S Mini
The Flowermate Mini gets you the same three temperature settings as the V5.0S, but in a significantly smaller package. With about 75 minutes of battery life, you're looking at half the vape time of the V5.0S, but for most, that's more than enough.
Not a fan of boxes: Flowermate Slick
The Flowermate Slick vaporizer is essentially a V5.0S in a pen-shaped form-factor, but with a few differences. The top temperature is slightly higher than the V5.0S, and the oven is black ceramic instead of white. Best of all, the Flowermate Slick comes with a replaceable battery and a handy magnetic cap that sticks to the bottom when you're vaping.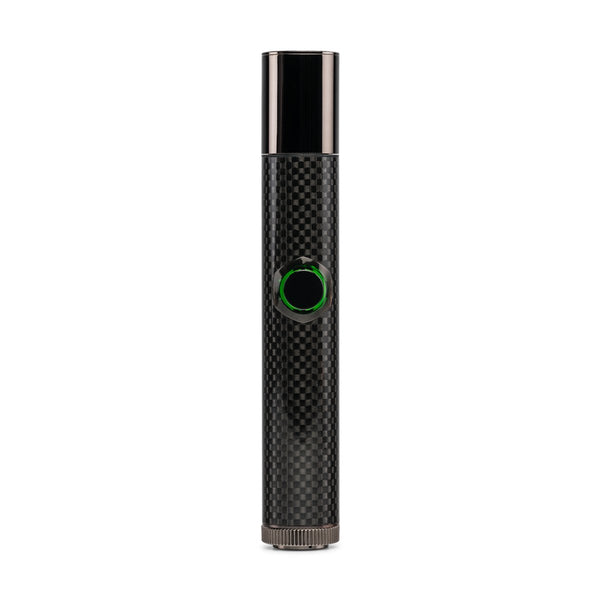 $99.95
The Flowermate Slick is a cigar-shaped, budget-friendly portable vaporizer.
Flavorful conduction heating
Single button control
Three preset temperatures
Replaceable battery
Glass mouthpiece
SHOP NOW
Free Shipping
Easy Returns
World Class Customer Service
Similarities
All of these Flowermate vaporizers have more in common than not. Big or small, fine temperature control or just a few key settings, all these vapes share a few key traits: a ceramic conduction heater, the signature Pyrex glass mouthpiece, fast heat up times, a four to five minute auto-shutoff time and, most importantly, quality vapor.
Differences
Where the models start to stand apart from each other has much more to do with personal preference than anything else. What is the most important feature to you in your vaporizer? Size? Temperature Control? Battery Life? -- Those are the little details we've outlined for you below.
Size & battery life
Our Flowermate vaporizers can be divided into three groups. There are the Full-Size models (V5.0S, V5.0 Pro, V5.0X), the Mini models (V5.0 Mini, V5.0 Mini Pro, V5.0X Mini), and the Replaceable Battery models (Nano and Slick). All the mini models are the same size, all the full-size models are the same size, and the newer replaceable battery models each have a unique size/shape.
All Flowermate models are pocketable, but the minis are a bit smaller and we like to call them ultra-portable. The Slick fits in any pocket, but will likely stick out the top.
The other key difference between these vaporizers is battery life. The full-size models have approximately 2.5 hours of battery life, the mini models have 75 minutes of battery life, and the removable battery vaporizers have close to an hour of battery life. An hour is more than enough for most people, but if you like to vape a lot, find yourself often vaping in party settings, or forget to charge your electronics, the 2.5 hours of battery life might be for you. The Nano and the Slick have the shortest runtimes, but make up for it with a user replaceable battery.
Size Options
Full Size
(V5.0S, V5.0 Pro, V5.0X)
4-1/8" x 2-3/8" x 1"
6.3 Oz
Mini
(V5.0S Mini, V5.0 Mini Pro, V5.0X Mini
3-3/8" x 1-3/4" x 1-3/16"
3.7 Oz
Nano
3-3/4" x 2" x 1"
5 Oz
Slick
6-1/4" long x 1" diameter
5 Oz
Temperature control & operation
The number of temperature settings, and how temperature is controlled and displayed, are some of the key differences between these vaporizers.
All of the Flowermate vapes fall into three model categories.
S Series and Slick
The S Series and Flowermate Slick feature one button control, and temperature is displayed via a colored light. The S Series and Slick have only three temperature settings, but they are right where you need them for vaporization and are more than enough for most users.
Level 1 - 385°F / 195°C
Level 2 - 400°F / 195°C
Level 3 - 415°F / 212°C (S Series)
Level 3 - 420°F / 215°C (Slick)
X Series
The X Series features one button control, and temperature is displayed via an LED light next to the temperature selected. The X Series has six temperatures and opens up the lower temperature range a bit allowing you to access some of those low temp flavor profiles versus the S Series.
Level 1 - 355°F / 180°C
Level 2 - 365°F / 185°C
Level 3 - 375°F / 190°C
Level 4 - 385°F / 196°C
Level 5 - 395°F / 202°C
Level 6 - 410°F / 210°C
Pro Series and Nano
The Pro Series and V5 Nano have an on/off button and up and down buttons for temperature control. Temperature is fully selectable in one degree increments and is displayed on the digital OLED screen. The Pro Series and Nano give you complete control and are great for both a low temp flavor chaser and a higher temperature aficionados.
104°- 446°F or 40°- 230°C
Variable in one degree increments
Charging time
The Flowermate vaporizers all take two and a half hours to fully charge via USB, and the Minis also double as a power bank for other electronics. However, the Nano and Slick have replaceable batteries that charge faster on an external charger, for those in a rush.
Color choice
Flowermate doesn't hold back on the color selections, and the offerings differ by model. The V5.0 Mini, V5.0 Pro, V5.0 Mini Pro, V5.0X, and V5.0X Mini are available in black or blue, with the Nano also boasting teal and rose gold. The V5.0S comes in black, blue, silver, green, red, and rose gold. The new Slick is just available in black carbon fiber.
What's included
All of the Flowermate vaporizers come with everything you need to get vaping when they arrive: a USB Charging cable, extra screens, a packing tool, a cleaning brush, a pyrex glass mouthpiece, a concentrate pod, and a dry herb pod. The V5.0S Mini Pro, V5.0X, and V5.0X Mini also include a water pipe adapter. The Nano includes all of the above (except the water pipe adapter), plus a filling aid and carrying case.
Price
Flowermate makes some of the most affordable vaporizers on the market, and they're solid performers for the price.
Not sure if Flowermate is for you?
Still feeling like none of these vaporizers fit the bill for you? No worries, here are a few other vaporizers that we recommend in the same price range.
Boundless CF, Boundless CFX & Boundless CFC 2.0
Boundless vaporizers are similar in a number of ways, and are actually made in the same factory, but offer larger ovens, faster heat up times and produce big clouds.
The Boundless CFC 2.0 is the small guy and is priced similarly at CAD$97.99. The CF gives you a bigger oven, a bit more power, and battery life at CAD$118.99, and the CFX gives you all the same with a big digital display and one-degree temperature control at CAD$195.99.
X Max Starry POTV Edition
At CAD$129.99, the X MAX Starry features a swappable battery, full digital controls, 25-second heat up time, and 80 minutes of battery life tucked into a solidly built, ultra-pocketable portable vape. With good vapor and an intuitive control, the Starry vaporizer is an easy recommendation for the newbie or seasoned vaporist looking for a new toy.
Arizer Extreme Q
Looking for a great performing home vaporizer for at a steal of a price? The Arizer Extreme Q delivers great vapor quality, is extremely reliable and versatile, and only CAD$194.99.
Arizer Solo
The Arizer Solo is a tried and true classic. A workhorse by all accounts. Portable but not quite pocketable, this beast will keep you in great tasting vapor for close to two hours at just CAD$144.99.
Arizer Air
The Arizer Air delivers the same vapor quality as the Solo, in a more pocketable package, with the added bonus of a swappable battery for CAD$144.99.
X MAX V2 Pro
The X MAX V2 Pro delivers similar vapor quality to what you get with any of these Flowermate vapes, with slightly less draw resistance. Featuring five preset temperatures, a swappable battery, and about 40 minutes of vape time, the X-Max V2 Pro is only CAD$99.99.
Still not sure?
Still not sure what vaporizer to choose? No worries. We're always here to help. Leave a comment below, hit us up on Instagram or Facebook or e-mail us at hello@planetofthevapes.com.